This post contains affiliate links. As an Amazon Associate, I earn from qualifying purchases.
Weekly Meal Plan 13
Weekly Meal Plan 13 for the 4th week of September is here. This weeks meal plan is packed full of easy recipes that will have you serving dinner to the family in no time.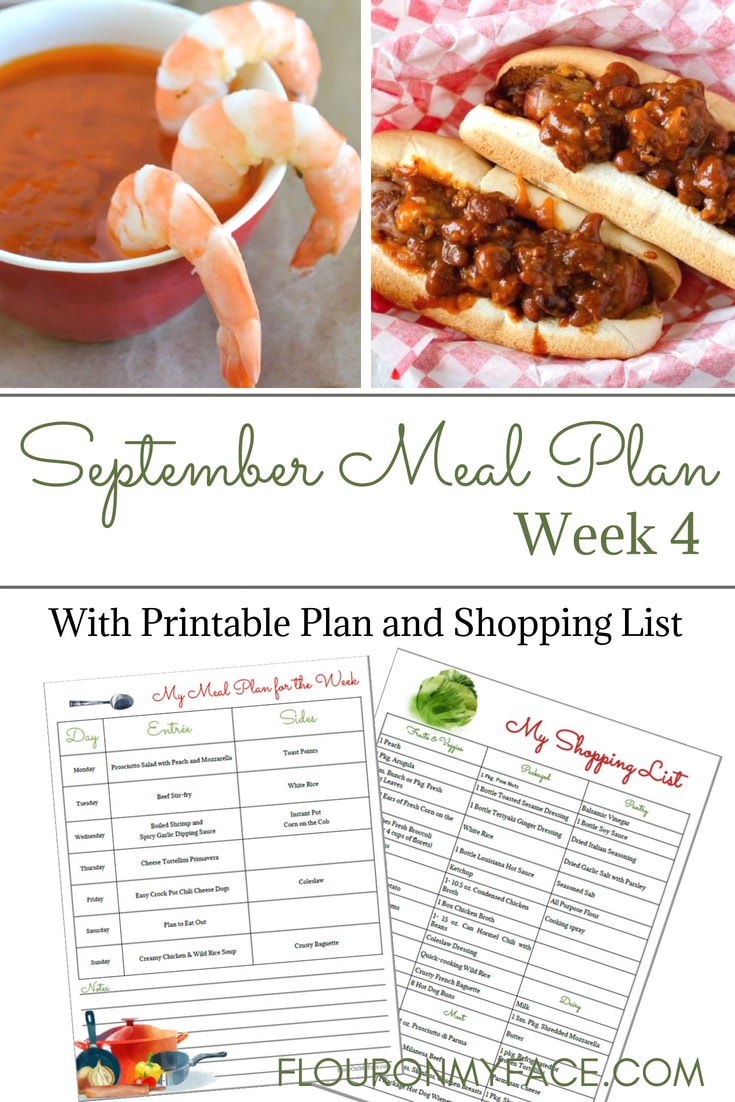 Have you been enjoying the weekly meal plan? I would love to hear from you! Leave me a comment telling me what you love about the Flour On My Face weekly meal plans or what you hate about it if that is the case.
Still on the fence about meal planning? Need a few good reasons why you should start following a weekly meal plan?
Check out my How To Start Meal Planning post for tips on how to meal plan.
Do you use freezer meals as part of your meal planning? Have you checked out the Flour On My Face Freezer Meals page yet?
Flour On My Face Weekly Meal Plan 13
Monday – Prosciutto Salad with Peach and Mozzarella from Caroline's Cooking is a light meal that hits the spot. Add some toast points if you need to fill up a little more.
Tuesday – This Beef Stir-fry at Mom's Confession served over white rice is both filling and tasty. You don't have to worry about leftovers with this one.
Wednesday – My Boiled Shrimp and Spicy Garlic Dipping Sauce doesn't take long to make. You'll love pairing it with Instant Pot Corn on the Cob.
Thursday – Cheese Tortellini Primavera is an affordable option for an end of the month meal plan.
Friday – Easy Crock Pot Chili Cheese Dogs with homemade Coleslaw is a great meal to end the week with.
Saturday – Plan to Eat Out
Sunday – Creamy Chicken & Wild Rice Soup from It Is a Keeper with a crusty baguette is hearty, warming, and comforting.
Don't forget you can download and print the free blank meal plan printable templates so you can customize your personal meal plan this week. Each month a new meal planning blank template will be available.
Octobers blank meal planning template will be available next week!
FREE FLOUR ON MY FACE WEEKLY MEAL PLAN PRINTABLES
Free Flour On My Face Weekly Meal Plan 13 September Week 4 Menu and Shopping List Printable
Free Flour On My Face Blank Menu Planning Template Printable
Free Flour On My Face Blank Menu Planning Shopping List Template Printable