Weekly Meal Plan 10 from Flour On My Face
Weekly Meal Plan 10 for the first week of September from Flour On My Face is here. Are you a busy Mama who is trying to get organized?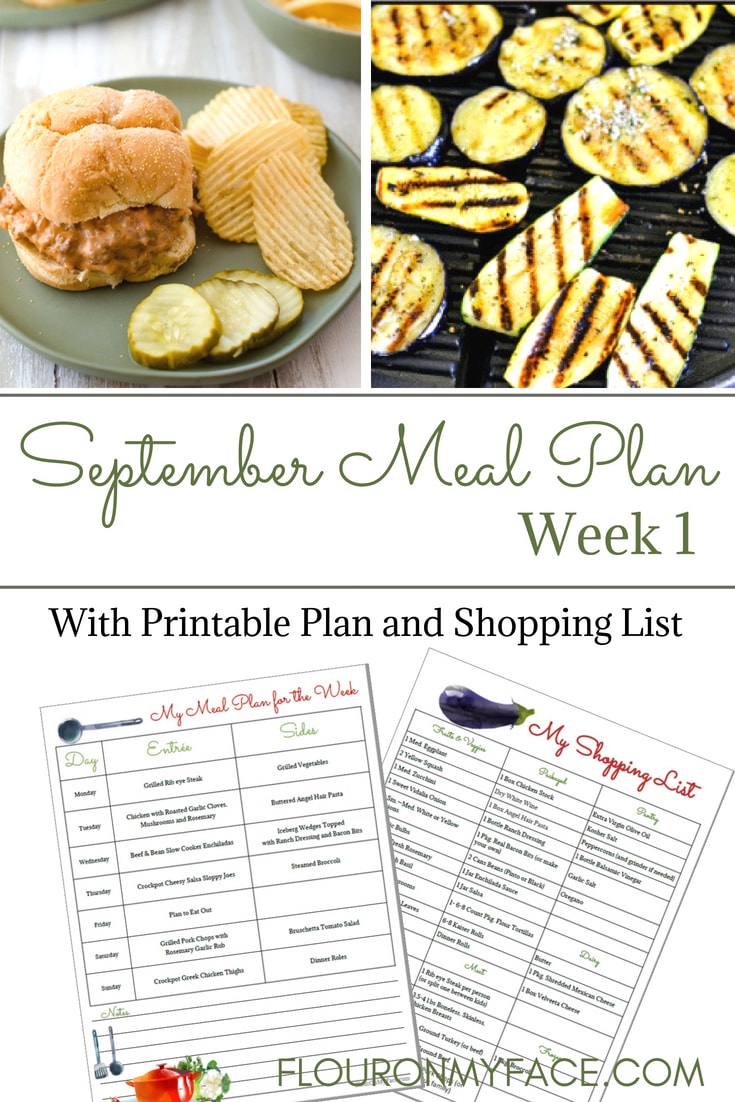 Busy Mama's who want to get control of the dinner hour know that getting dinner on the table can be one of the hardest and most stressful times of the day.
Working Mom's did you know meal planning can help you get control of dinner time!
Just imagine what it might be like if every day of the week you knew what's for dinner. All you need to do is start meal planning.
If you are wondering how to start meal planning I share some of my meal planning tips and explain how meal planning works for me here.
Weekly Meal Plan 10 for the 1st week of September
Monday - If you like a good steak, you'll find that Renee's Grilled Ribeye Steak is a steak that packs a lot of flavors While the grill is hot, do some Grilled Vegetables for a simple side.
Tuesday - Savory, Chicken with Roasted Garlic Cloves, Mushrooms and Rosemary from The Gardening Cook, is simple comfort food at it's finest. Serve over buttered angel hair pasta to complete your dish.
Wednesday - These Beef & Bean Slow Cooker Enchiladas for busy days, from Frugal Family Home, helps you get dinner on the table with lots of yummy goodness. Serve with individual iceberg wedges topped with ranch dressing and bacon bits.
Thursday - You can prep this Crock Pot Cheesy Salsa Sloppy Joes a couple of hours before dinner. Then let the Crockpot do the rest while you focus on something else. Steamed Broccoli is a great side dish for these.
Friday - Plan to Eat Out
Saturday - Fire up the grill, for these Grilled Pork Chops with Rosemary-Garlic Rub from It It a Keeper, pair it with a refreshing Bruschetta Tomato Salad at Mama Loves Food.
Sunday - A one-pot dish is exactly what you need on a busy Sunday. And my Crock Pot Greek Chicken Thighs with potatoes and onions is just that. Add a dinner roll to fill out the meal a bit.
Free Flour On My Face Weekly Meal Plan Printables
Free Flour On My Face Weekly Meal Plan 10 September Week 1 Menu and Shopping List Printable
Free Flour On My Face Blank Menu Planning Template Printable
Free Flour On My Face Blank Menu Planning Shopping List Template Printable