Flour On My Face Weekly Meal Plan 1
Welcome to the Flour On My Face Weekly Meal Plan 1. If you are not a meal planner I want to challenge you to start meal planning today!
School will be back in session soon. If you are tired of going crazy trying to figure out whats for dinner during the busy school week meal planning is going to relieve the stress and aggravation of preparing dinner for your family.
If meal planning isn't a part of your life yet it will be now that you see how much easier life and the dinner hour is once you have a meal plan in hand.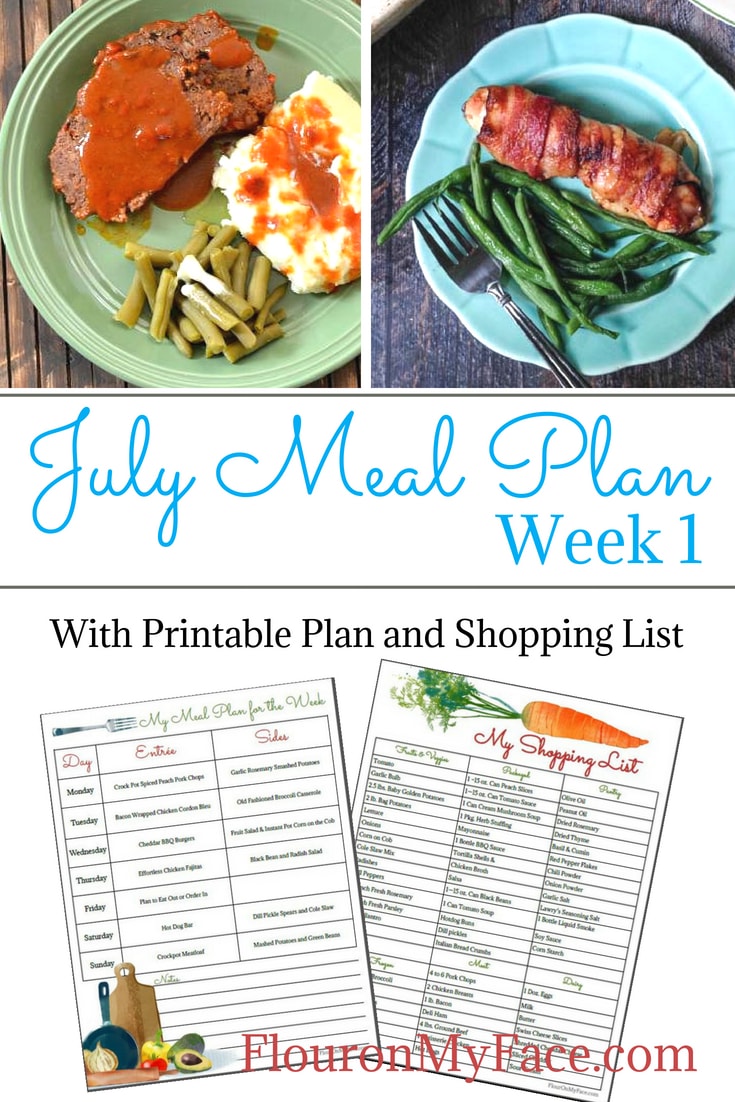 Flour On My Face Weekly Meal Plan 1 Tips
Not sure how to start meal planning? Read some of the tips I shared in my How To Start Meal Planning post.
The Flour On My Face Weekly Meal Plan 1 is packed full of easy dinner recipes and side dishes that your family will love.
These easy meal planning dinner recipes are perfect for the first week of July while you are planning your 4th of July celebration!
This Weekly Meal Plan 1 is perfect for anyone that is a pro meal planner or the newbie meal planner.
Free weekly Meal Plan 1 Printables
Scroll to the bottom of this post to find the free July Meal Plan 1 Printables.
You'll also find a blank Meal Plan template printable so you can customize the Meal Plan 1 menu to fit your weekly meal planning schedule.
You'll also find a blank meal plan grocery shopping list if you need it.
Flour On My Face Weekly Meal Plan 1
Monday - Let the Crock Pot do the cooking for you with these Crockpot Spiced Peach Pork Chops within the last hour of cooking prepare some Garlic Rosemary Smashed Potatoes in the oven for a sumptuous dinner that's sure to satisfy.
Tuesday - This Bacon Wrapped Chicken Cordon Bleu from Denise at My Life Cookbook is packed with flavor but add a side of my Old Fashioned Broccoli Casserole and you'll have a filling dinner the whole family will enjoy. Plus, it'll give you the energy to take a family walk after supper.
Wednesday - Happy 4th of July!! You can enjoy some comforting goodness with these Cheddar BBQ Burgers and with your favorite summertime fruit salad and easy to make, sweet & tender, Instant Pot Corn on the Cob.
Thursday - Effortless Chicken Fajitas from Carol at the Gardening Cook are so easy you'll wonder why you haven't made them before! Serve with a refreshing Black Bean and Radish Salad from Trisha at The Good Mama for an unexpected twist.
Friday - Plan to Eat Out
Saturday - It's summer and who doesn't love Hot Dogs during the hot summer months? Throw the wieners into the slow cooker on low for 3-4 hours or on high for 1 to 2. Then spoon your family's favorite dog toppers into bowls, and let them serve themselves at your Hot Dog bar. Add some dill pickle spears and Cole slaw to round out the meal.
Sunday - With this Crock Pot Meatloaf you won't have to sweat over a hot stove all day making Sunday Supper. Add some mashed potatoes and green beans to the side for a complete, and tasty, meal.
Flour On My Face FREE Meal Planning Printables