Top 10 Flour On My Face Recipes of 2017
Happy New Year! I hope you had a wonderful holiday season. As we begin the new year I wanted to share with you the Top 10 Flour On My Face recipes of 2017.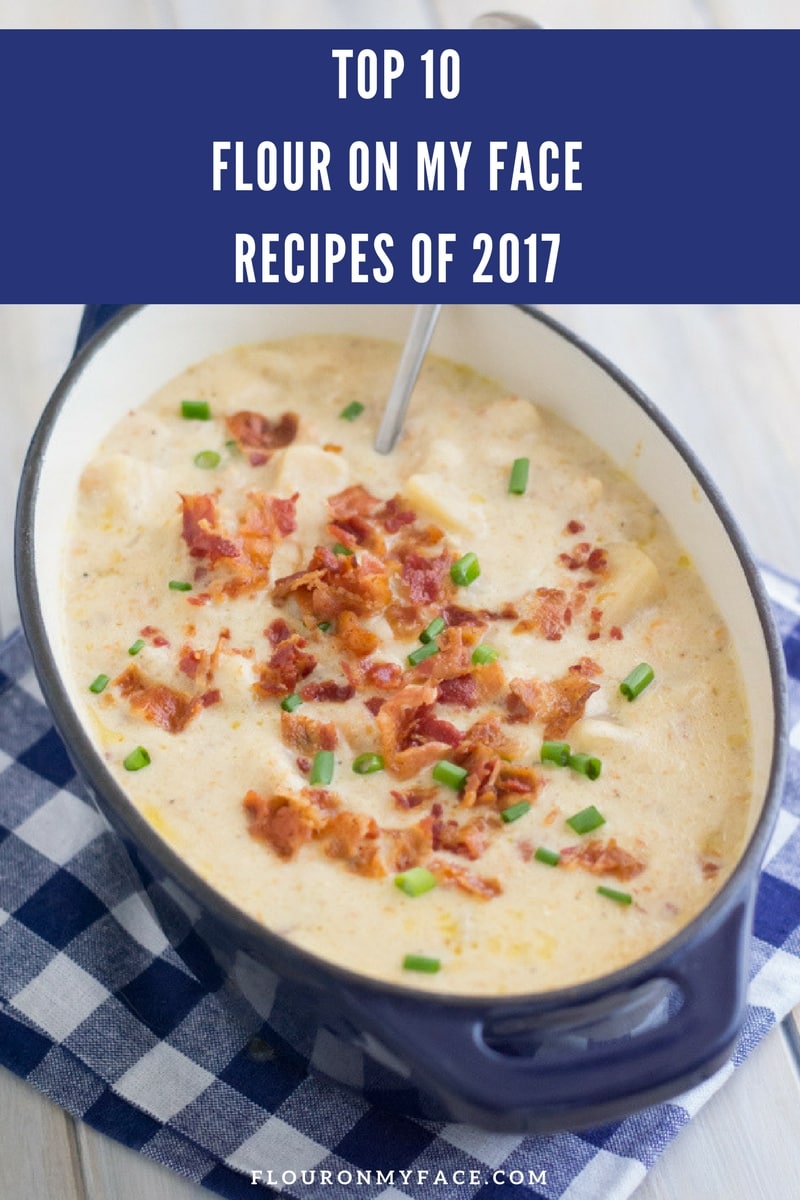 If you are a new Flour On My Face reader you may not have seen some of the best of Flour On My Face recipes!
If you've been a follower for awhile I hope you enjoy revisiting some of my older recipes again.
The Top 10 Flour On My Face recipes of 2017 have a few repeat winners when it comes to Flour On My Face most popular recipes.
My skinny homemade Alfredo sauce recipe has been the reigning queen every year since I first shared it. Check out some of the comments and you'll see just how much everyone loves this recipe once they make it.
Enjoy the recipes and I have you have a wonderful new year!
Homemade Alfredo Sauce: This recipe has been one of the best recipes I have ever shared. It is the easiest homemade Alfredo sauce you will ever make. Matter of fact once you make it you will never buy a jar of Alfredo sauce again.
Crock Pot London Broil recipe: This slow cooker London broil recipe has been the most popular crock pot recipe of 2017. The London broil is so tender it falls apart.
25 Ground Beef Freezer Meal Recipes: Freezer meals are one of the best things you can ever do if you are strapped for time around the dinner hour.
How To Clean and Roast Pumpkin Seeds: I share my easy tips for how to get those pesky strings off fresh pumpkin seeds so you can roast them.
Crock Pot Chicken and Rice recipe: I love this slow cooker chicken and rice recipe. It is so easy to make and all you need is a couple of ingredients to make it.
Easy Crock Pot Pulled Pork recipe: One of my favorite ways to cook pork in the slow cooker. Juicy and tender pulled pork can be eaten on slider buns or use it to make pulled pork nachos.
Crock Pot Candied Sweet Potatoes recipe: Southern style candied sweet potatoes is a must have side dish for the holidays. I love how easy it is to make candied sweet potatoes in the crock pot.
Crock Pot Loaded Potato Soup recipe: Turn your love of a loaded baked potato into a perfect crock pot winter soup recipe. This loaded potatoes soup is delicious and filling. Top it with all of your favorite baked potato toppings.
How To Make Refrigerator Garlic Dill Pickles: If you would like to try your hand at canning refrigerator dill pickles is an easy recipe to start with.
Crock Pot Macaroni and Cheese recipe: Homemade mac and cheese is so easy to make in the slow cooker. This is another holiday side dish recipe I have been making every year. It is cheesy and delicious.