Spicy Cauliflower Mac and Cheese Casserole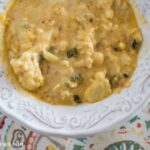 Author:

Arlene Mobley

Prep Time:

30 minutes

Cook Time:

30 minutes

Total Time:

1 hour

Yield:

6 Servings

Category:

Low Carb Recipes

Method:

baked (roasted)

Cuisine:

American
Ingredients
1 head of cauliflower, steamed and cut into florets (or 4 cups frozen and thawed cauliflower florets) I used my (affiliate link) Instant Pot to steam the cauliflower.
1 roasted poblano pepper, seeded and diced
1 large roasted jalapeno pepper, seeded and diced
1 medium roasted onion, chopped
5 cloves of garlic, roasted and chopped
2 cups milk
2 tablespoons of flour
1/2 teaspoon salt
1 teaspoon ground pepper
1/2 teaspoon paprika
2 1/2 cups shredded Monterey Jack Cheese or Sharp White Cheddar
1/2 cup grated Parmesan cheese
Instructions
Roast the vegetables following the instructions here. Place the hot roasted peppers into a container with a lid and allow to cool. Once cool remove skin from the peppers and chop. Chop the onion and garlic. Set the chopped vegetables aside while making the cheese sauce.
Melt the butter in a medium sauce pan on medium heat. Add the flour, salt, pepper and paprika to the melted butter and whisk for 1 minute. Slowly pour half the milk into the pot whisking continuously until all lumps are gone. Add the remaining milk and bring the sauce to a boil whisking the entire time.
Once the milk comes to a boil it will begin to thicken. Continue boiling on medium high heat for about 8 minutes whisking the entire time to prevent scalding. Remove the pot from the heat and stir 2 cups of the shredded Monterey Jack cheese (or Sharp White Cheddar) into the hot milk mixture. Once the cheese has melted set the pot aside.
Preheat oven to 375 F. degrees.
Mix the cauliflower and roasted chopped vegetables together in a large bowl. Pour the cheese sauce into the bowl and gently fold until combined.
Pour the cauliflower mixture into a baking dish. Sprinkle the remaining Monterrey Jack cheese over the top. Sprinkle the grated Parmesan cheese over the top.
Bake uncovered in the preheated oven for 30 minutes or until the cheese has melted and it is bubbling.
Remove from oven and serve immediately.
Makes 6 servings.