Spicy Cajun Chicken Fettuccine Alfredo
with an easy homemade alfredo sauce
I have been making this creamy alfredo sauce without cream cheese for years and knew it would work perfectly for this Spicy Cajun Chicken Fettuccine Alfredo recipe. I love this homemade chicken alfredo recipe and I know you will too once you make my easy homemade alfredo sauce you will never buy jarred alfredo sauce again.
I make my homemade alfredo sauce with milk instead of cream or half and half. It is one of my favorite family recipes. I had no idea it was considered a skinny alfredo sauce recipe. That is until I was checking out the words that lead searchers to my Easy Homemade Fettuccini Alfredo Sauce. I was very surprised. I would never have considered this Spicy Cajun Chicken Fettuccine Alfredo a low calorie alfredo recipe. It is thick, creamy and rich. Nothing like any low calorie alfredo sauce recipe I have ever eaten. But I guess if you consider the difference in the fat and calories in my recipe verses an alfredo sauce made with cream cheese and heavy cream well then yes this recipe could be considered a skinny alfredo sauce recipe.  
You may be doubting my opinion (it is biased!) of how awesome this chicken alfredo recipe tastes. I understand completely so please head over to my Easy Homemade Fettuccine Alfredo Sauce recipe and read some of the comments I have received over the years since I shared the recipe.  My Easy Homemade  Alfredo Sauce recipe is my second most popular post. 
Spicy Cajun Chicken Alfredo Recipe
The same recipe I used to make the homemade fettuccine alfredo recipe can be used to make this Spicy Cajun Chicken Fettuccine Alfredo Recipe . You just add a touch of whole or ground red pepper flakes to the alfredo sauce.  You can also adjust the heat factor by adjusting the amount of red pepper you use.  I love hot and spicy food but most of my family does not so I adjust the amount of red pepper used based on who will be eating.
Print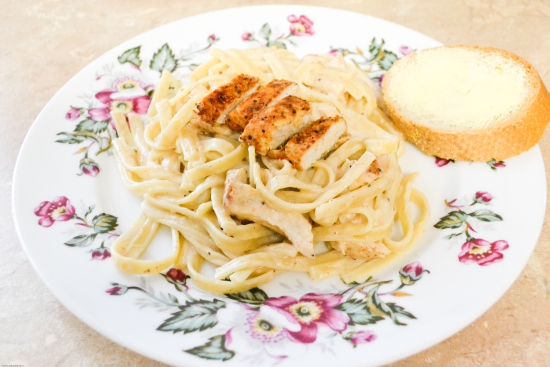 Spicy Cajun Chicken Fettuccine Alfredo
Author:

Yield:

4-6 servings

Category:

Chicken Alfredo
---
Ingredients
Spicy Cajun Chicken
3 boneless chicken breasts
Weber N'Orleans Cajun Seasoning
2 tbs olive oil
1 -16 ounce package fettuccine noodles
Spicy Alfredo Sauce
3 cups milk
4 tbs butter
4 tbs flour
1/2 tsp ground black pepper
1 tsp salt
1/2 tsp ground red pepper
1/2 – 3/4 cup grated Parmesan cheese
---
Instructions
To Make the Cajun Chicken
Trim fat from chicken breast and coat evenly with the Spicy Cajun seasoning. Let set for about 15 minutes.
Heat oil in a pan and cook chicken while making Alfredo sauce. Cook chicken until cooked through. 20 to 30 minutes depending on the thickness of the chicken breast.
While the chicken is cooking
Melt butter with salt, pepper and ground red pepper in a heavy sauce pan. Make a rue by whisking flour into the butter to create a thick paste. Cook whisking all the while for 5 minutes. Slowly pour milk in while whisking. Whisk well to blend the thickened rue into the milk. Add Parmesan cheese and again whisk well to combine.
Heat Alfredo sauce on medium high. Continue whisking until thickened, about 15 minutes. Set Alfredo sauce aside.
While you continue to cook the chicken bring a large pot of water to boil. Cook fettuccine noodles until el dente, about 12-15 minutes per package directions.
Remove chicken from pan once it is done and allow it to rest on a plate while the noodles continue to cook.
Slice the chicken into bite size pieces.
Drain noodles reserving about a cup of liquid.
Use the reserved liquid to thin out the alfredo sauce if it has thickened too much while cooling
Return the drained noodles to the pot they were cooked in. Pour the Alfredo sauce over the noodles and stir. Add the chicken pieces and stir. Serve with a slice of Italian bread and a salad on the side.
---
Notes
Skinny homemade alfredo sauce is easy to make at home and tastes so good!