Roasted Heirloom Tomato Ham Tart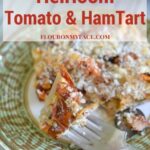 Ingredients
1 prepared pie crust, pre-baked 10 minutes
1 1/2 – 2 cups roasted tomatoes
1/2 cup cubed or sliced ham
8 oz Cream Havarti Cheese, cubed
1/4 – 1/2 cup shredded Smoked Goudam Cheese
1/4 cup sliced black olives
1 teaspoon minced garlic
1/2 teaspoon fresh minced rosemary
1/4 teaspoon sea salt
1/4 teaspoon black pepper
1/2 cup panko bread crumbs
Instructions
Roast the heirloom tomatoes in a preheated 400 F. degree oven.
Cool and drain the excess liquid for about 15 minutes.
Prepare the pie crust by placing it into a tart pan and spreading it along the bottom and up the sides.
Pre-bake the pie crust for 10 minutes.
Mix the roasted tomatoes with the 8 remaining ingredients up to the pepper in a large bowl.
Sprinkle the bread crumbs over the top of the tart.
Bake in the oven for 20 – 30 minutes or until the cheeses are melted and the bread crumbs are a golden brown.
Allow tart to cool. Serve warm or room temperature.
Nutrition
Serving Size:

1 Slice

Calories:

339

Sugar:

2.14 g

Fat:

17.49 g

Carbohydrates:

14.16 g

Fiber:

1 g

Protein:

6.93 g