Nutella Banana Waffles with Nutella Cinnamon Syrup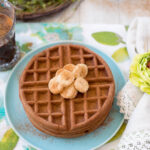 Nutella Banana Waffles with Nutella Cinnamon Syrup
Author:

Arlene Mobley

Prep Time:

10 minutes

Cook Time:

15 minutes

Total Time:

25 minutes

Yield:

4 (or 5 large waffles)

Category:

Breakfast

Method:

Waffle Iron

Cuisine:

American
Ingredients
Ingredients
1 1/2 cups all purpose flour
3 tablespoons granulated sugar
1 tablespoon baking powder
1 1/4 cup milk
2 tablespoon unsalted butter
1/2 cup Nutella
1 large egg, beaten
1 large banana diced
Nutella Cinnamon Syrup (optional)
Ingredients
1 cup pancake syrup
1/4 cup Nutella
1/4 teaspoon ground cinnamon
1 banana sliced (optional)
Instructions
Turn your waffle maker on to heat up while your mixing the ingredients.
In a large bowl whisk together flour, sugar and baking powder, set aside.
In a small sauce pan or a bowl in the microwave warm the milk, 1/2 cup Nutella and butter just until the butter and Nutella have melted. (do not over heat! you want this to be just warmed)
Pour the warm milk and Nutella mixture into the bowl with the dry ingredients and whisk until just moistened. Add the beaten egg and banana pieces to the bowl and gently fold into the ingredients.
Carefully spray or wipe down the inside of the waffle maker with oil.
Pour a heaping one cup of waffle batter into the hot waffle maker ( 7 inch Belgian style waffle maker) and cook per manufacturers instructions.
Remove each waffle from the waffle maker once done and place in a single layer onto an elevated cooling rack so they don't become soggy as you are cooking the other waffles.
Makes 4 large 7 inch Belgian style waffles.
How to Make Nutella Cinnamon Syrup
To make the Nutella Cinnamon Syrup heat the syrup, Nutella and cinnamon until the Nutella has melted. Mix well and pour over waffles.
Serve waffles with the syrup and top the stack of waffles with sliced banana if desired.
Notes
I used a large 7 inch Belgian Waffle Maker to make these Nutella Banana Waffles. If using a smaller waffle iron the number of waffles made will increase possibly by double.
Nutrition
Serving Size:

2 Waffles

Calories:

828 kcal