New GoPro Cameras at Best Buy
Disclosure: The reviewer has been compensated in the form of a Best Buy Gift Card and/or received the product/service at a reduced price or for free
Have you seen the new GoPro Cameras at Best Buy? The holiday shopping season will be here before you know it. Best Buy is my favorite place to shop for cameras and camcorders. They have the full line of GoPro Cameras, along with a large selection of GoPro Camera accessories.   The GoPro are All-Season Sports Camera for the entire family. Strap one on and capture those action packed adventures.
GoPro Cameras are a perfect Christmas gift for anyone in the family. My son who is an avid fisherman and outdoorsmen would love one of the new GoPro Hero cameras. He goes fishing every week here in S.W. Florida. He has caught some huge fish. He practices catch and release and this would be a perfect gift for him to save all those memories of catching the big one.  I am putting the new GoPro Hero4 Black camera on my Christmas list for him. 
GoPro's new line of cameras allow you to capture and share those awesome life experiences hands free. Got a thrill seeker in the family? You know that one person who loves to skydive, shoot the rapids or climb mountains? Well this is a perfect gift for them. Now they can capture all those action packed adventures with a high speed camera that will not only take digital photos but also capture videos so they can share their experiences with the not so adventurous family and friends.
Or maybe you like to take fun vacations? 
 The GoPro Hero cameras are water proof so you can take them along to the water park, beach or even scuba diving.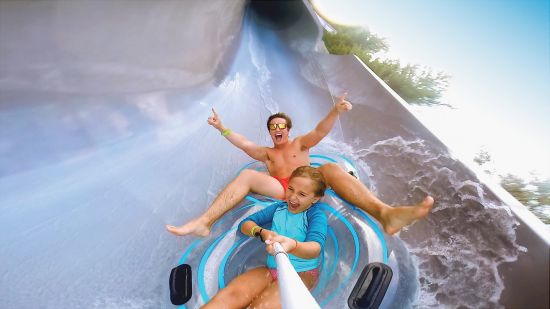 Planning on hitting the slopes this year?
Check out the specs below on the GoPro Hero cameras available at Best Buy.  Head over to the GoPro page at Best Buy and check out the video to see the GoPro Hero4 cameras in action. These camera are awesome!
The GoPro Hero4 Black camera
GoPro HERO4 Black: the most advanced GoPro ever, featuring improved image quality and a 2x more powerful processor with 2x faster video frame rates1, HERO4 Black takes award‐winning GoPro performance to a whole new level.
GoPro Hero4 Silver
GoPro HERO4 Silver: the first-ever GoPro to feature a built-in touch display. Controlling The camera, playing back footage and adjusting settings is ultra-convenient—just view, tap and swipe the screen. With 1080p60 and 720p120 video, and 12MP photos at a staggering 30 frames per second, HERO4 Silver combines powerful, pro-quality capture with the convenience of a touch display.
GoPro Hero
Featuring high‐quality 1080p30 and 720p60 video, and 5MP photos up to 5 fps, HERO captures the same immersive footage that's made GoPro one of the best-selling cameras in the world. 12x more powerful processor with 2x faster video frame rates.