I've had my eye on a new grill. We've been grilling on a tiny grill that's great for a small family but too small for the big family get together I plan on hosting on Memorial Day.
The guest list keeps getting longer and we need a larger cooking area then the grill we have has.
I decided to take advantage of the great prices in the Kmart Outdoor Catalog and put a new grill on Layaway until payday, just in time for the weekend.
All the Kmart Grills, Accessories and Outdoor Decor is on sale. Look at the great deals that can be found in the Sunday's circular (05/13/12).
Kenmore 4-burner gas grill with side burner for $189.99, regularly $269.99
Garden Oasis 2-seat swing with cushion and canopy for $99.99, regularly $169.99
Garden Oasis Benton outdoor 5-pc dining set for $149.99, regularly $219.99
20% all patio decor
25% all patio cushions, umbrellas, and folding lawn furniture
Save $20 on a deluxe full size charcoal grill
Lock in today's low prices for all of your upcoming events with Kmart layaway
I checked out the grills online at Kmart.com before I headed out on my shopping trip.
While I was browsing through the grills  and accessories online to find one that would be perfect for my Mother"s Day BBQ I came across the Shop Your Way Rewards  program Kmart offers. I signed right up. Now I'll be earning points for every dollar I spend at Kmart. Once I have enough points I can cash them in for some great stuff or even use my points when I check out while shopping at Kmart.
I had a list of  grills I saw while browsing online that I wanted to check out once I got to my local Kmart.
I've been wanting a dual grill; one that is divided into two seperate cooking areas. One side heated by gas and the other a charcoal grill. I couldn't tell from the pictures online if the cooking area would be big enough for when we host the upcoming grilling parties I have planned for over the summer. On average we grill for 5 to 18 people. That's just family and close friends. If we are grilling for a birthday party the guest list can grow up to 35 guest.
So I need a grill with a larger cooking area.
Once I got to Kmart and looked at the dual grill I realized it was too small for our needs. I checked out a couple of the gas grills but the grill I finally decided to put on layaway was the MasterGrill  with Firebox.  The firebox is  a smoker attached to the side of the charcoal grill. We love smoking a pork roast or whole chickens so this grill is perfect for us.
We could grill or smoke whenever the urge hit. We could also grill and smoke at the same time if that's what we decided to do.
Once I decided on the grill I asked one of the associates if he could help me with the heavy grill box.
He was nice enough to take it back to the Layaway department while I did the rest of my shopping.
What I love about Kmart's Layaway is that you can snatch up a new grill , patio furniture or anything else you desire when Kmart is having a big sale  and the prices are great. Then you pay a small down payment of 10%  of your balance or $15 , whichever is smaller. Then you have 8 weeks to pay it off. If your purchase balance is over $300 you have 12 weeks to pay it off.  Payments are due bi-weekly.
It's a great way to purchase expensive items that you wouldn't normally be able to pay for all at once.
I also grabbed a few things for my bbq that were on sale like a huge bag of charcoal and a grilling accessories pack for the new grill with all the long handled utensils that are so necessary when grilling. These items went on layaway also.
You can visit my to see the rest of my shopping trip.
I grabbed some chips and dip for the bbq and took advantage of the BOGO sale on shoes while I was there. My daughter needed a new bathing suit and they were on sale for 40% off.  The prices at Kmart are really good!
My Mother's Day bbq will be  a pre Memorial Day BBQ test run with the new grill.
Sunday arrived and we set the grill up.  My husband seasoned the grill early in the morning so we would be good to go at dinner time. I was looking forward to a great day filled with family and great food on the grill.
My baked beans are pretty awesome and we hadn't had them in awhile so I was really looking forward to a grilled burger with my baked beans.
Things were going great. All the food was prepped to go on the grill. Baked beans were baking, the corn on the cob was  already on the grill.
My husband and son were manning the grill. The coals were good and hot. The guys got the hamburgers and hot dogs on the grill.
Then the sky opened up and it's just another day in paradise. Our afternoon rainy season isn't suppose to start until June. But down here in Florida you just never know. We Floridians never let a little rain ruin our bbq's so the guys pulled out an umbrella and made sure those burgers & dogs would be  cooked and ready to feed the family.
After about fifteen minutes the rain died down to a drizzle and my son could finish cooking the food.
After we got the food off the grill and were fixing our plates the rain started coming down in buckets.  We ate on the screened in porch to the sound of the rain beating down on the roof.
We didn't get to swim but we sure had a great meal thanks to our new grill.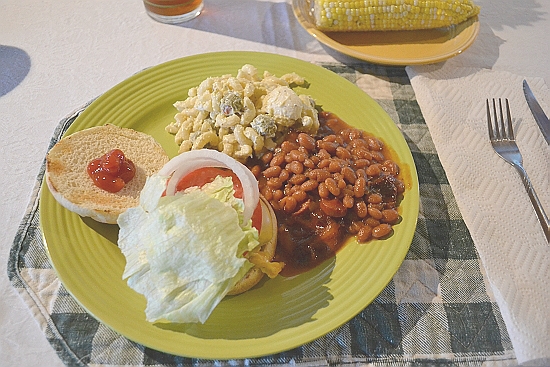 Connect with Kmart and stay up to date on all the great Memorial Day deals.
Check out the #KmartOutDoor hash tag on twitter.
Kmart's Twitter: https://twitter.com/#!/kmart
Shop Your Way Rewards Twitter: https://twitter.com/#!/ShopYourWay
Kmart's Facebook:  http://www.facebook.com/kmart
Kmart Weekly Deals:  http://kmrt.us/kmartweeklydeals
Disclosure: I am a member of the Collective Bias™ Social Fabric® Community.  This shop has been compensated as part of a social shopper insights study for Collective Bias™. #CBias #SocialFabric  All opinions are my own and are based on my own experiences.