Indulge with Magnum Belgian Chocolate
$50 Kroger Gift Card Giveaway
Disclosure: This post and  Kroger gift card giveaway have been sponsored by Lunchbox and Kroger. All opinions are my own.
The summer is here and while mom's everywhere are trying to find ways to keep the kids busy we sometimes forget about ourselves. Mom's we must take some time for ourselves!  I can't think of a better way to celebrate the summer than with an international love connection – with Belgian Chocolate.
Shh….don't tell anyone but I have been indulging in one of my favorite Belgian Chocolate treats late at night while the kids are in bed.
I know it's a little sorrid, but I just can't help myself! I just don't want to share!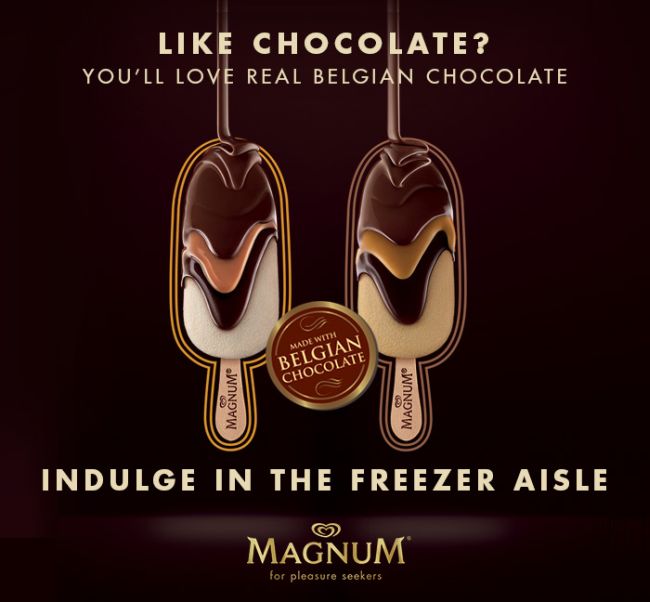 Summertime and ice cream go hand in hand. It has been so hot and I have a sweet tooth when it comes to decadent Belgian chocolate and ice cream. Magnum Ice Cream Bars are the ultimate indulgence with their  Belgian chocolate covered ice cream bars. Magnum is the only ice cream bar made with real Belgian chocolate.
Magnum provides the richest ice cream pleasure with silky ice cream covered in thick, cracking chocolate. For an even more indulgent experience, Magnum Doubles are dipped in a Chocolate, Caramel, or Peanut Butter sauce and dipped again in chocolate.
Kroger and Magnum want to help you have your own summer love affair  with a Magnum Belgian Chocolate covered ice cream and to help you celebrate #MagnumIndulgenceSummer you can enter to win a Kroger $50 gift card. Then you can  head over to a Kroger or Kroger owned store to pick up a few boxes of Magnum Ice Cream Bars or Magnum Doubles.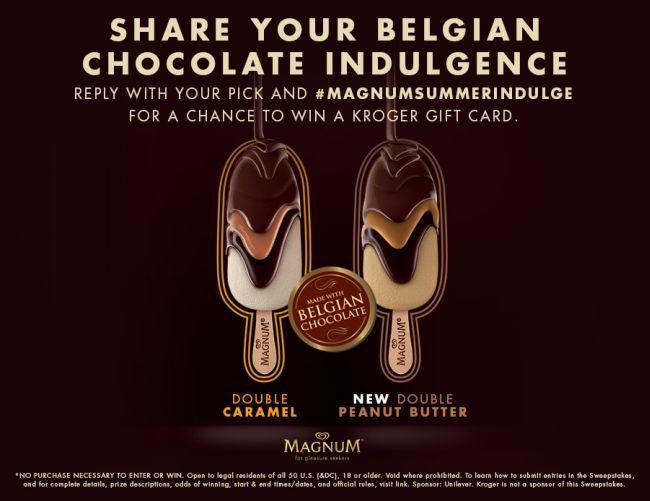 How to enter the Kroger $50 gift card sweepstake.
Head over here to find your closest Kroger store. Magnum products are available at all Kroger and Kroger owned stores.
Offical rules can be found here.
Sweepstakes Date: Starts 6/22/15 and Ends: 7/22/15. Winner will be notified on 7/23/15 by a direct message on Twitter. Winner must respond within 24 hours of notification to claim prize.
Be sure and  follow @flouronmyface2 on twitter so I can DM you if you are the winner of the Kroger $50 gift card.
Reply to this tweet: Peanut Butter or Double Caramel? Answer w/ #MagnumSummerIndulge  4 a chance to win a gift card #ad
Peanut Butter or Double Caramel? Reply w/ #MagnumSummerIndulge 4 chance to win GC #ad http://t.co/8Ry3eBGoOK pic.twitter.com/LokZ85jtke

— Flour On My Face (@flouronmyface2) July 13, 2015
Tweet Reply must include @flouronmyface2 w/ #MagnumSummerIndulge & your fave Magnum Belgian Bar flavor 4 a chance to win a $50 Kroger gift card