How to Start a Food Blog in 5 Minutes
Disclosure: Links on this page are affiliate links. If you click on one and make a purchase I will earn a small commission which will continue to help me with the costs of running my website. Let me say thank you right now if you decided to make a purchase through one of my links! I really appreciate the support!
So you want to start a food blog but you're not sure where to start. I know how you feel. It was hard for me when I first decided to start a food blog. I had a little blogging experience since I was already writing an art blog and a deal blog on Blogger.
Since I "knew" Blogger I just went ahead and started the Flour On My Face food blog right there on Blogger. But I had heard whispers that if I really wanted to be taken seriously by the blogger networks (and make money blogging) and work with brands (make more money!!) that I would need to move my blog to a self-hosted WordPress site.
Eek that is scary sounding. At least is was for me back then.
After a few months on Blogger, I did buy my food blog domain. But I was dragging my feet moving my food blog to the WordPress platform.
Let me save you some time and money. I wish I would have started my food blog on self-hosted WordPress right from the beginning!
If you are looking for information on How to Start a Food Blog you have come to the right place. I hope I can share some of the knowledge I have learned over the past six years of writing the Flour On My Face food blog.
I know how hard it was for me when I first started. I had no idea what I was doing. I started this blog on a whim one day and six years later I am earning an income and have been able to stay home with my youngest daughter.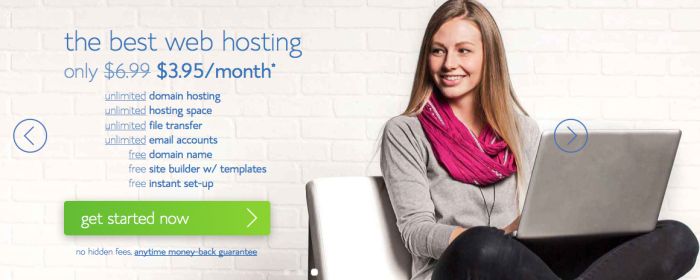 Start Your Food Blog In 5 Minutes with Bluehost and WordPress
If you have a passion for cooking and sharing recipes you can join the world of food blogging right now with these easy step by step instructions on how to start a blog in 5 minutes.
Step 1: Find an affordable web hosting plan.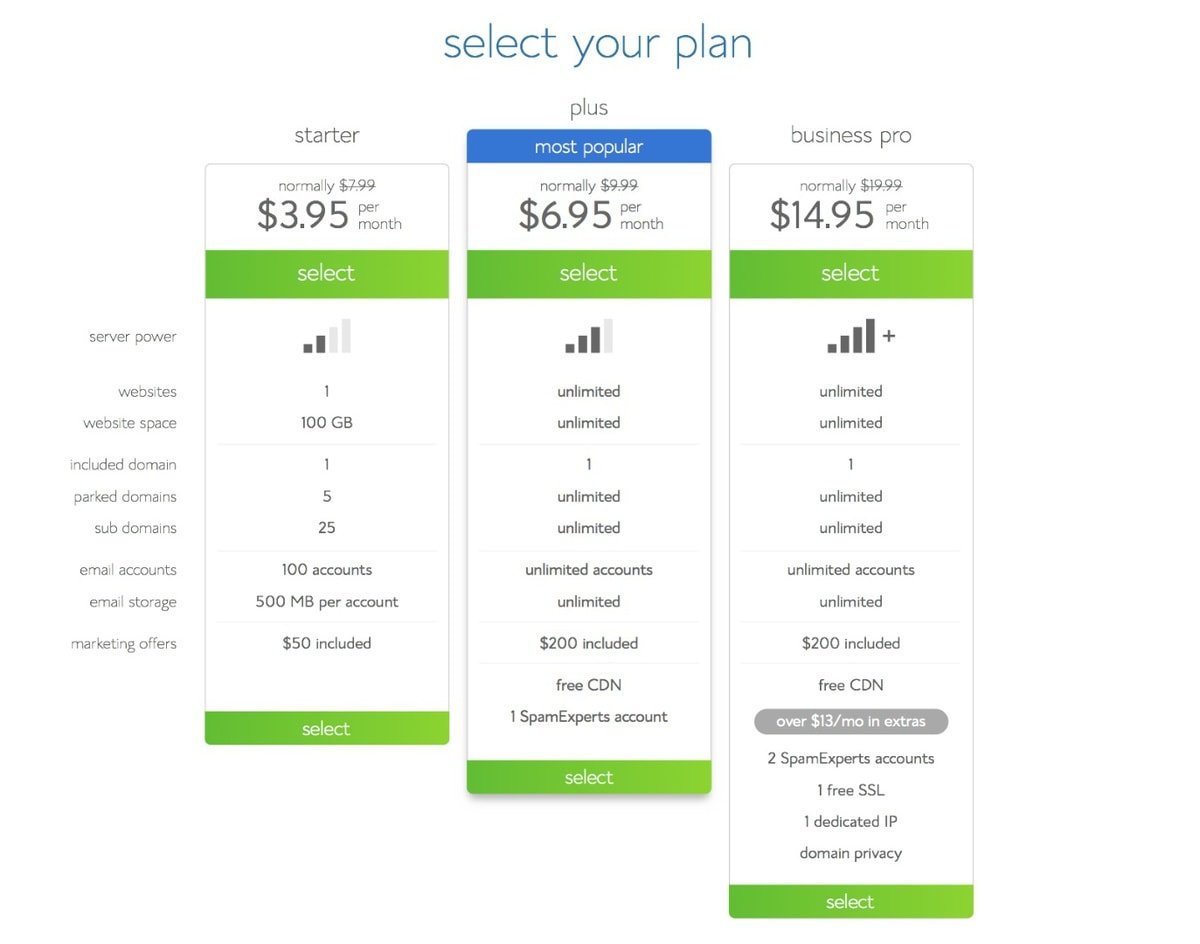 Step 2: Pick a mouthwatering name for your food blog and buy the domain. Domain registration is free with Bluehost!
Step 3: Enter your personal information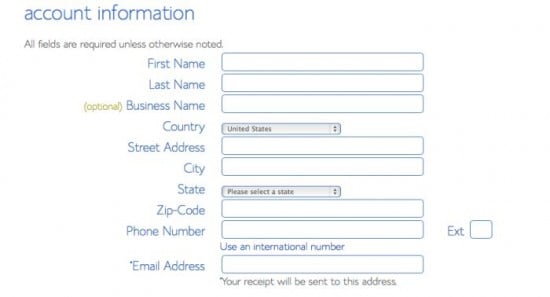 Enter your billing information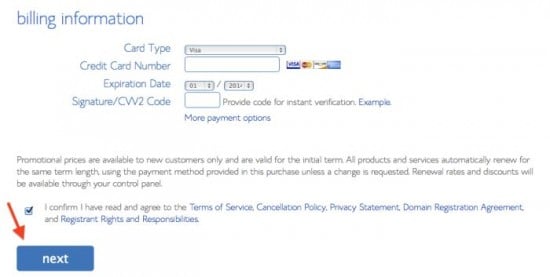 Step 4: Pick a Bluehost plan.
With Bluehost, there is no setup fee
Domain Registration is free with Bluehost
SiteLock Domain Security keeps your site safe from many vulnerabilities
Site Backup Pro is the cost for Bluehost to backup all your site files in case your site ever crashes or any number of things that can go wrong. It is like an insurance policy that protects your website in case of a disaster.
The extra cost of Domain Whois Privacy will keep your private information like name and the address you used to purchase your domain private if anyone decides to look up your domain.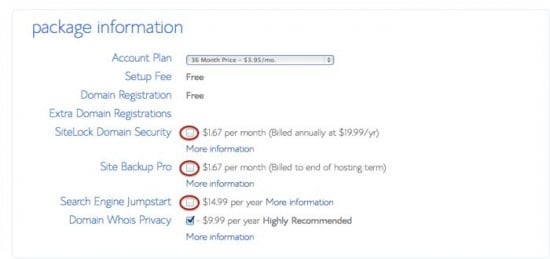 Step 5: Install the WordPress platform.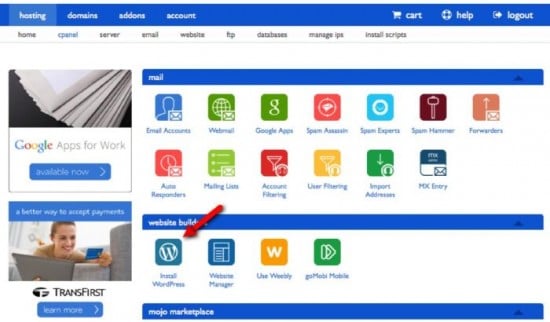 Step 6: Follow the easy directions to install the WordPress platform onto your new Bluehost hosting account.

Pick your new domain for the WordPress installation.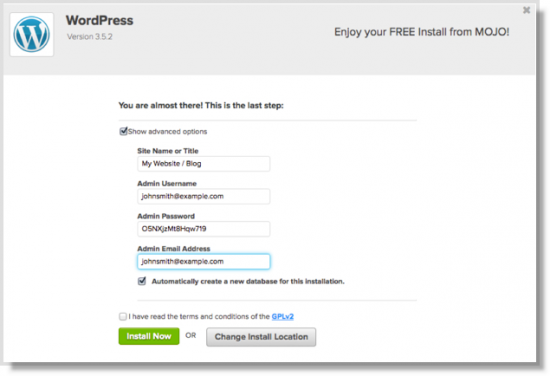 Enter the information for the last step. A little warning here. Your WordPress Admin Username can not be changed.

Once the installation has completed your are almost crossing the finish line into Food Blogging paradise.
I know you're excited and the first thing you are going to do is type your new food blog url into a search bar. Do not be alarmed if you get a message that the website can not be found. It can take up to 72 hours for your new site to be live.
While your waiting for your new food blog to come online there are a few things you can do.
#1 Best-Selling WordPress Theme for October 2015 is the Foodie Pro Theme
My current food blog theme is the Foodie Pro Genesis Child theme. It is a beautiful theme and if you decide to go with it you will not be sorry.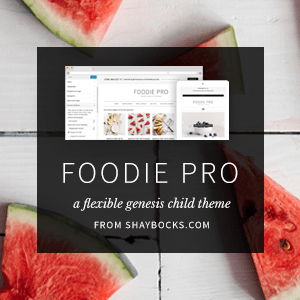 Should you use a free WordPress theme or buy the Genesis framework?
There are hundreds of free WordPress themes that you can choose from if you decide to go the free theme route. The problem with a free theme is that each time a WordPress update comes through there will be issues with the theme. With a free theme there is no support. Your site can be at risk to hackers. With a premium theme you have support, updates, and protection. The Premium WordPress theme developers stay up to date and usually have a theme update at the ready when a WordPress update is coming. They stand behind their product and word hard to make sure your site is protected and updated when needed.
Free themes are also not SEO optimized like premium themes. As a new blogger, you may be thinking who cares I will worry about SEO later, let's get the cookie dough ball rolling.
If you are thinking that way you are making a huge mistake. SEO is the name of the game and you should start out working on SEO from the beginning. There are millions of food blogs out there. There are thousands of new food blogs starting every day. The only way you are going to start showing up in the Google search is if your new food blog is Search Engine Optimized.
Number 1 Tip for new food bloggers
My number one tip would be to read everything you can about Search Engine Optimization.
The Genesis framework has built in Search Engine Optimization. That is one of the reasons I went with the Genesis framework with a Child theme when I moved my food blog from Blogger to WordPress.
by installing either a free WordPress theme or by purchasing the Genesis framework and a Childtheme. You could also go with the Thesis framework. I have only used the Genesis framework so I can only speak from my experience.
Before I used the Foodie Pro theme I used the Lifestyle child theme.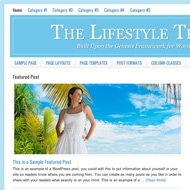 Lifestyle Pro Theme
The Crave Genesis Child theme is another beautiful Food Blog theme option.

Food Photography Resources
Want to find out what 30 Food Bloggers think is going to be the Number One Thing to pay attention to in 2016? Get the free One Thing Ebook.