---
Description
How To Make Dehydrated Hash Brown Potatoes
Dehydrated hash brown potatoes is an easy way to preserve fresh potatoes for long term storage. Properly stored dehydrated potatoes can last many years. This is a perfect way to stock your pantry with fresh foods.
Preserving vegetables, like potatoes by drying them is a great way to enjoy fresh vegetables that have been dried. Dried vegetables last much longer than fresh. Once rehydrated the dried potatoes taste just as good as fresh potatoes.
---
---
Instructions
Wash and peel the potatoes.
Cook the potatoes until just fork tender. Cook the potatoes in a pot of boiling water or in a pressure cooker. Do not over cook the potatoes. You want them cooked but still firm enough to hold their shape and not fall apart. Do not over cook!
Immediately rinse the hot potatoes under cold water. Place the warm potatoes in a bowl of cold water for about 15 minutes to bring down the internal temperature and stop the cooking.
Place the potatoes in a single layer in a pan. Cover and refrigerate until completely chilled. The potatoes must be completely cold before shredding.
Use a box grater to grate the potatoes.
Fill the dehydrator trays. Spread the shredded potato pieces over a dehydrator tray until the tray is full. Fill the dehydrator trays until you run out of shredded potatoes or you have reached the number of trays your dehydrator will hold. 
Dehydrate the shredded potatoes at 125 F. degrees for 6 to 8 hours or until they are completely hard.
Cool the hot dried potatoes completely before storing in air tight containers.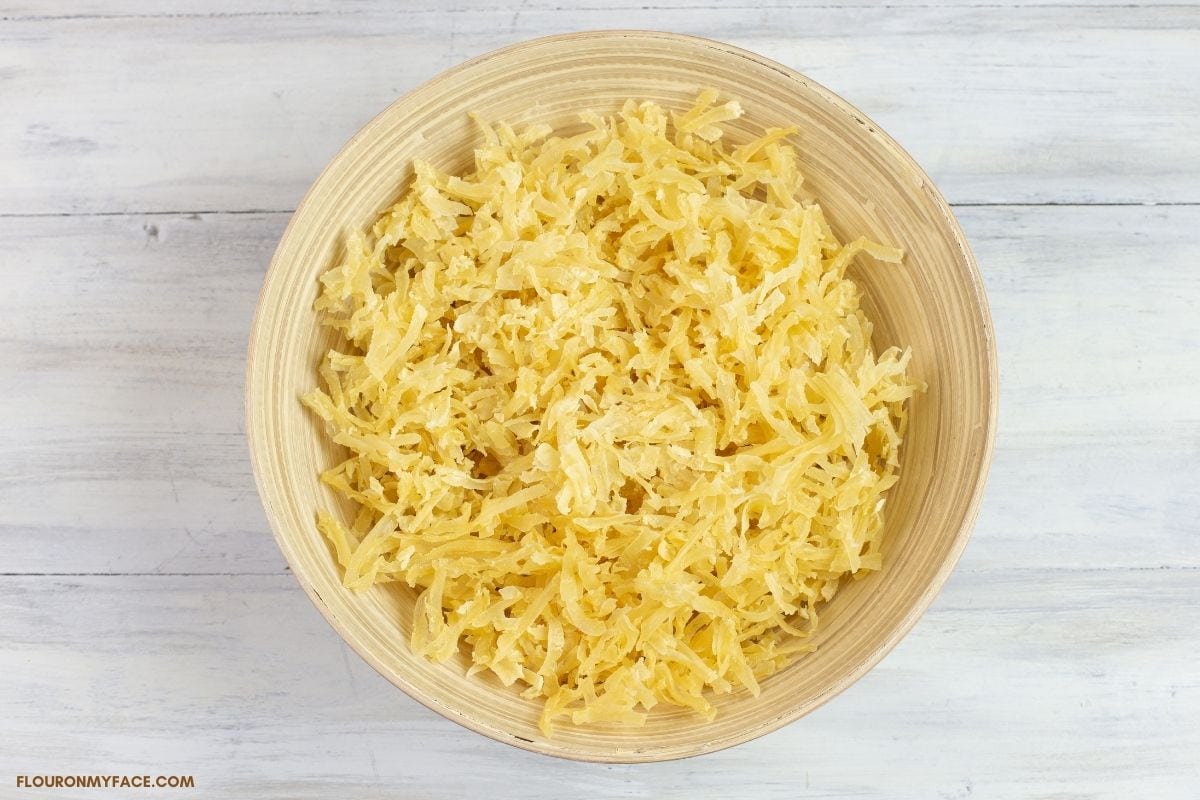 Notes
IMPORTANT NOTES
Cooking the potatoes before dehydrating means no blanching is required for shredded potatoes.
Do not over cook the potatoes. They will be too soft to shred. Under cooked potatoes are better than over cooked.
Chill the cooked potatoes completely before shredding or the cooked potato may fall apart when shredding.
Vacuum sealing the dried potatoes can extend the shelf life many years.
Make sure the shredded potato pieces are completely dry by squeezing the center or breading a few in half. If the pieces are not hard as a rock and soft in the center they are not dried completely.
---
Nutrition
Serving Size:

1/2 cup

Calories:

59

Carbohydrates:

13.6g

Fiber:

1g

Protein:

1.6g
Keywords: Dehydrated Potatoes, Dehydrated Hash Brown Potatoes, Dehydrating, Dehydrating Vegetables