Honey Bunches of Oats
Greek Honey Crunch Cereal
I was so excited to get a chance to try out the new  Honey Bunches of Oats Greek Honey Crunch cereal.
I love the Honey Bunches of Oats with real Strawberries so I couldn't wait to see how the new Greek Honey Crunch with two kinds of granola made with greek yogurt would taste.
I wasn't disappointed. Not only does the cereal taste great but it is a great source of whole grains. One serving has over 2/3 of the recommended daily intake of whole grains.
33g of Whole Grain per serving – over 2/3 your day's whole grain
Serving Size: 1 Cup
230 Calories
Provides 12 essential vitamins and minerals
5g protein per serving
A perfect way to start the day off with a smile  if you ask me. Even my daughter who starts the day off bright and early before 6 am on school days has been enjoying a bowl of Honey Bunches of Oats Greek Honey Crunch before heading out on the bus. Since breakfast is the most important meal of the day I know she is starting to day off right.
Look at all those granola  greek  yogurt clusters.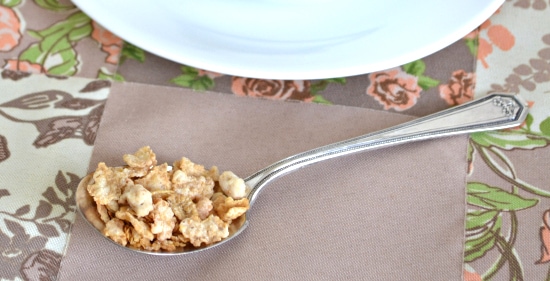 Each spoonful has a sweet surprise as you crunch into crispy whole grain flakes, 2 unique granolas made with real Greek yogurt and a sweet touch of honey.
I've also been enjoying the new Honey Bunches of Oats Greek Honey Crunch when I need a late afternoon snack by adding a couple of tablespoons to the top of my homemade yogurt.
It's a great way to get a little more whole grain into my diet during the day bringing me even closer to the recommended daily intake.
You can connect with Honey Bunches of Oats on their  Website, Twitter stream and Facebook page
Disclaimer: I am part of the Mom It Forward blogger network. Mom It Forward and Honey Bunches of Oats partnered in support of this campaign. Honey Bunches of Oats compensated me for participation in this campaign. However, all thoughts and opinions are my own.