Get Ready for Summer with a Full Flavor TEN Calorie Soda
Read on to get a printable Four TEN coupon below
Dr. Pepper Snapple Group
10 calorie FULL flavor  7UP TEN,  Sunkist TEN, A&W TEN and Canada Dry TEN
Disclosure: This shop is part of a social shopper marketing insight campaign with Pollinate Media Group™ and Dr. Pepper Snapple Group but all my opinions are my own. #pmedia #TENways http://my-disclosur.es/OBsstV"
Ladies and gentlemen (guys I know your reading this also) here we are and it is the end of March already. Spring is in the air. Guess what comes next? Summer time. The time of the year when it is hot outside. HOT HOT HOT! and where do we go when we need to get relief from the blistering heat?  To the beach or the pool. That's where! It is very tempting for me to run around out in the yard under the sprinkler with the grandkids but my kids and the neighbors would look at me like I am nuts. Not that my kids don't already do that. My two daughters perfected the roll your eyes at crazy mom look years ago.
Now before you know it it will be bathing suit season.  Yikes! So before that day arrives and you are looking at last years bathing suit thinking Oh No! today is the day to get rid of some of those extra calories. I am not a big diet person but I know if I want to cut way back on calories in time for the summer I've got to dump the full calorie drinks.
I'm happy to say I have finally found a way to do it with a 10 calorie full flavor soda and not feel cheated by drinking a very un-flavor-full and flat tasting diet soda.  Are you wondering how?…. with the Four TEN calorie beverages from the Dr. Pepper Snapple Group. Each soda flavor only has 10 calories but you wouldn't know it from the full flavor. It is the best I've ever tasted in a low calorie soda. 
Now the Four TEN beverages are available in  7Up TEN, Sunkist TEN, A&W TEN and  Canada Dry TEN. The Four beverages only have ten calories but has a full flavor unlike other low calorie beverages. That means they taste great and only have ten calories!
You'll notice in my picture that RC Cola TEN is new and may not be available everywhere yet. I picked up a 12 pack of the 7UP TEN and Sunkist TEN at Walmart. Check your Walmart locations for the available full flavor TEN calorie beverages. All flavors may not be available at all locations.
 If you'd like to follow the Dr Pepper Snapple Group they are on Facebook and Twitter.  
It's a great way to find out about special offers.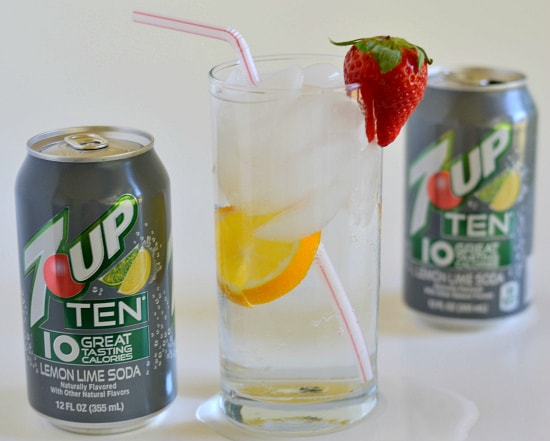 Speaking of special offers here is a coupon for $0.50 off of the purchase of TWO 2 Liter bottles or TWO 4-pack cans of 7UP TEN, A&W TEN, Canada Dry TEN, RC TEN or Sunkist TEN soda.
 Offer available while supplies last, from 3/27-4/17.
If you are feeling generous and you wanted to share the digital coupon via email, FB, Twitter (there is a click to share button) once you click the share button you will get brought to a coupon that will get $1.50 off that purchase rather than just $0.50.
So be generous and share away.