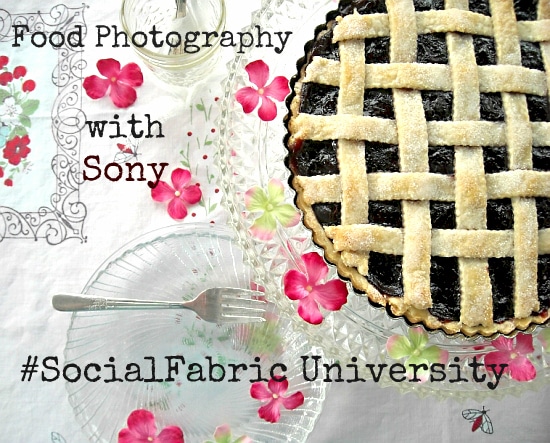 I am so excited that I have the opportunity to take part in the first Food Photography with Sony class through the Social Fabric University.
Social Fabric University (SFU)  is a web based class being offered through Pearson's OpenClass. Open Class is a  learning management system powered by the well-known Pearson Learning Solutions. Pearson has more than 35 years of experience as a partner to educators as a custom publishing industry leader. The Open Class learning management system has been adopted by many well-known universities and colleges.
For more information on OpenClass see this link.
This class came at the prefect time for me. I just bought a Nikon D3100 dslr. I've been a hobby photographer for many years starting with film photography and moving on to digital when it went mainstream and the average person could afford to buy a digital camera. There are many differences between digital photography using a point and shoot digital camera and a dslr camera.  Learning a dslr is a whole new ball game.
So far I have only used this awesome camera mostly on the auto settings. I have played around a time or two using the manual setting as I try to learn my new camera.
The digital photographs are so much better out of the camera then from my Nikon point & shoot I am very pleased with this entry level Nikon dslr. But I have much to learn. That is why I am so excited about this class!
There are six units in the course.
Unit 1: Intro
Here we will get to know our instructor and fellow classmates. Many are food bloggers or bloggers who's niche may not be food but they do occasionally post food and recipe posts.
Unit 2: Background and Lighting
Background and lighting  will cover setting up your background and best lighting techniques to use to capture those wonderful food photos that make the reader want to reach into their monitor and take a bite.
 This is one of the main areas that I need help with. I am looking forward to learning the correct way to set up a food shoot, lighting and the correct composition of my photo. This has been a  very frustrating part of my photography even with the new camera. I know what I want from my photos but just don't know how to set it up and get it.  I'll be learning all the tips and tricks the pro's use in this class.
Unit 3: Pixlr Software, Props and Styling
Pixlr software will the the digital photography editing software we will be using for the class. Up until now I had not tried this web based editing software but I took a peek yesterday. I played around using the layers functions to brighten a couple of my digital photos that I thought looked good enough for my blog. Matter of fact I was pretty happy with the photo you see above until I started playing with the layers functions in Pixlr.
I have a lot to learn apparently in this department.
Setting up your photo with the proper Props and styling can be as important as the dish you are photographing. This subject will teach me how to do just that.
Unit 4: Camera Tech
Will teach me the proper rules to follow when shooting my photos. Some of the topics covered will be, the rule of thirds, camera angel and depth of field.
Unit 5: Combine All Skills
In this unit we will learn how to combine all the new skills we have learned in the previous units to get the great photos.
Unit 6: Portfolio
In unit six we will compile a portfolio of the best images we have taken. The class will then discuss and critique each others photos.
At the end of this class I hope when you visit my blog you'll be amazed by my new photography skills!