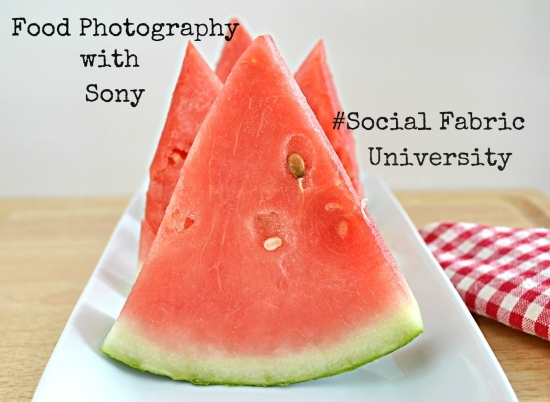 We are on the home stretch in the Food Photography with Sony class. Three more units to go.
We started unit four this week and this is the unit I have been waiting for.
In the previous three units we have been learning about background and lighting.
We have learned about Pixlr software and props and styling.
Now in unit 4 we will be learning about camera tech.
This is the unit I have been waiting for. I need some serious help in camera tech.
Background and lighting has been a big issue for me. In this unit I learned how to use a white board to bounce natural light onto the food I am trying to photograph. The tips didn't help me solve some of the issues I struggle with as far as lighting is concerned but it did help me learn how to get more natural light in the brighten my photos up.
Before this class I really thought I knew a lot about photo editing but apparently I didn't.  If your struggling with photo editing I want to introduce you to Pixlr.com .
Pixlr works alot like Photoshop. But is a free online photo editing program that anyone can use.
Here are a couple of examples of how you can improve your photos using Pixlr.
In unit two our assignment was to take three photos using the skills we learned on background and lighting. Then my classmates were to critique my photos.  I of course would also be critiquing their photos as well.
Critiquing can be a sticky subject but my classmates have all been wonderful.  Some of those ladies take some really awesome photographs!
Editing these photos was not actually part of the class but I took it upon myself to see how I could improve this photograph
and this photograph
using the skills I learned in the next unit.
As you can see there is a dramatic improvement to these photographs of blackberries. The watermelon shot at the top of this post was also taken in unit two and then edited in unit three with the photo editing skills I learned.
I've learned many things  in the class so far that will help improve the photos I use on my blog.  After only 3 units I can see a huge improvement in my photographs. I hope you can too!
Arlene