Dried Apricot Sunflower Granola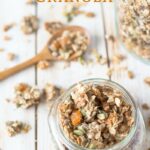 Author:

Arlene Mobley

Prep Time:

20 minutes

Cook Time:

25 Minutes

Total Time:

45 minutes

Yield:

7 Cups

Category:

Breakfast Recipes

Method:

Baked

Cuisine:

American
Ingredients
3 cups old fashioned oats
1 cup rice crispie cereal
1 cup minced dried apricot pieces
1/2 cup dried pepitas (pumpkin seeds)
1/2 cup dried sunflower seeds
1 teaspoon ground cinnamon
1/4 teaspoon salt
1/2 cup creamy sunflower butter
1/4 cup honey
1 teaspoon vanilla extract
Instructions
Preheat oven to 325 F.
Prepare a 9 x 13 inch baking sheet by lining it with parchment paper leaving a slight over hang so you can easily remove the baked granola from the pan
In a large bowl mix the first 7 ingredients until combined well.
Mix the sunflower butter, honey and vanilla in a small bowl. Warm in the microwave for 20 seconds.
Pour the warmed sunflower butter mixture into the large bowl of dry ingredients.
With a stiff spatula mix well until the wet ingredients are incorporated well with the dry ingredients.
Pour the granola ingredients into the baking pan. Spread out evenly.
Press the granola down into the baking pan. Tip: use a second piece of parchment paper to cover the top of the ingredients and press down firmly to compact the granola tightly. Discard this piece of parchment paper once the granola is pressed into the baking sheet.
Bake for 20-25 minutes until the edges of the granola starts to turn a golden brown.
Once baked remove the pan from the oven and cool on a baking rack for 15-20 minutes.
After cooled break the granola leaving some large chunks. Store in an airtight container.
Makes about 7 cups of granola.
Nutrition
Serving Size:

1/4 cup

Calories:

91