Crock Pot Summer Squash Soup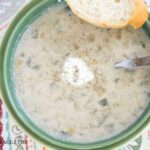 Ingredients
1 cup cubed zucchini
1 cup cubed yellow squash
2 cups vegetable or chicken broth
1/2 cup diced onion
1 tablespoon minced garlic
1 teaspoon sea salt
1 teaspoon ground black pepper
1 teaspoon dill weed
plus 4 ounces sour cream added at the end of cooking time.
Instructions
Place all the ingredients into a 4 quart crock pot and cook for 4 hours on high or 6 hours on low.
Right before serving mix the sour cream into the hot soup.
Place a dollop of sour cream on each serving and sprinkle with dill weed.
Makes 2-4 servings. Can be doubled easily.