Celebrate World Pasta Day with Barilla
 October 25th is World Pasta Day
Are you celebrating with your family?
My family and I will be celebrating by enjoying a bowl of this easy to prepare Barilla Ditilini Soup with White Beans recipe I found in the Modern Family Pasta CookBook Barilla just released. This recipe is perfect for those families that are constantly on the go.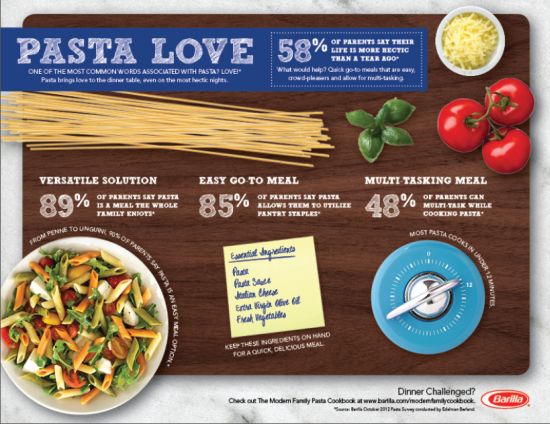 Barilla knows how important it can be for families to enjoy a nutritious  home cooked meal.  Most families struggle with their hectic lives. Finding the time to shop and prepare a delicious healthy meal for the family can be a struggle. 
Increasingly hectic lives make at-home meal preparation more challenging than ever BUT it's still important:
 88% of parents are reliant upon multi-tasking each day and more than half (58%) say their life is more hectic now, than a year ago.
While families are making time for dinner, Two-in-five meal-preparers agree it is difficult to find time to prepare dinner in their household.

They don't want to miss enjoying a home cooked meal with their family as they worry the alternative will offer poor nutritional content (74%) and they will miss out on family time at the table (65%). 



Leading contributors to a hectic lifestyle, making meal-planning and preparation a challenge:
 1) Work 2) Household chores 3) Errands 4) Kids' after school activities 5) Kids' homework
Pasta provides the perfect meal solution for time-limited households:
 Pasta is recognized by parents and non-parents as a tasty (88%) and easy (87%) meal option and one that can be prepared using on-hand ingredients from a pantry (82%).
Other benefits of pasta that help alleviate chaotic schedules include that it is versatile (52%), a quick go-to meal (51%) and allows for multitasking while it's cooking (44%).
Check out Barilla and Share a Hug to help Barilla donate to Feeding America and receive a download of the cookbook and a $1 off and Barilla pasta or sauce coupon (while supplies last).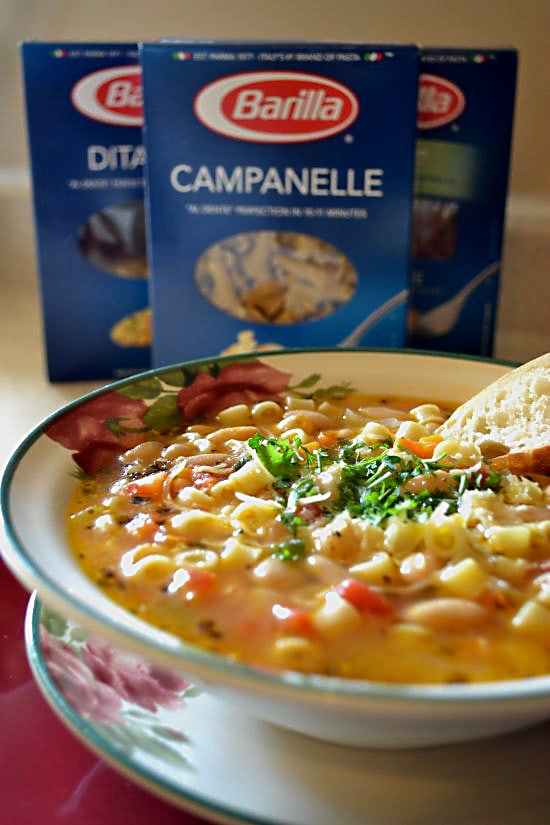 . 
 I love the way this soup turned out. It was easy to make and tasted great. I happen to love a meatless soup. Even though I am not a vegetarian I love a bowl of soup packed full of vegetables, beans and pasta.
I hope you and your family have a chance to celebrate World Pasta Day with Barilla also.
 Make one of the Barilla recipes and gather around the dining room table and talk with your family about their day.
For more recipes celebrating World Pasta Day with Barilla check out #BarillaWPD
Disclosure: I participated in a campaign on behalf of Mom Central Consulting for Barilla. I received product samples to facilitate my review and a promotional item as a thank-you for participating.