Breyers Gelato Indulgences
Your New Reason to Spoon this Valentine's Day
$50 Target Giftcard Giveaway
Disclosure: Sponsored post by Lunchbox, all opinions are 100% my own.  The Bullseye Design, Target and Target GiftCard are registered trademarks of Target Brands, Inc. Terms and conditions are applied to gift cards. Target is not a participating partner in or sponsor of this offer.
Celebrate this Valentine's Day with a new reason to spoon: Breyers Gelato Indulgences.  Bring excitement back to date night in,with a trio of premium textures including creamy gelato, luscious sauces and gourmet toppings. Breyers Gelato Indulgences are all you need to have a grown-up night in with your sweetheart.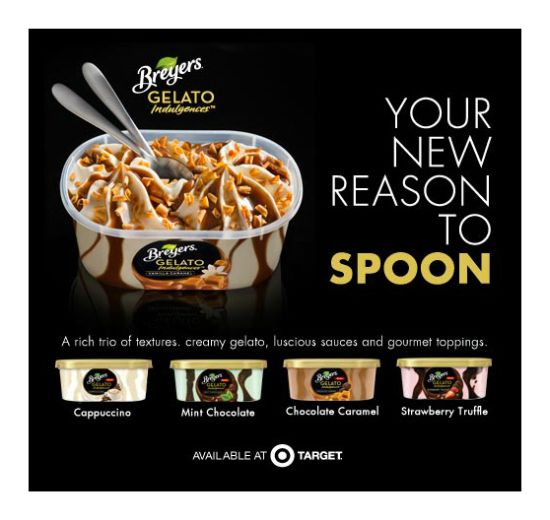 Not everyone can enjoy an actual night out on the town on Valentine's Day. Just because you can't go out on aa actual date to celebrate the night of love doesn't mean you can't indulge at home with your sweetie after the kids go to bed. Breyers Gelato Indulgences is a perfect way to get naughty with your someone special on Valentines Day.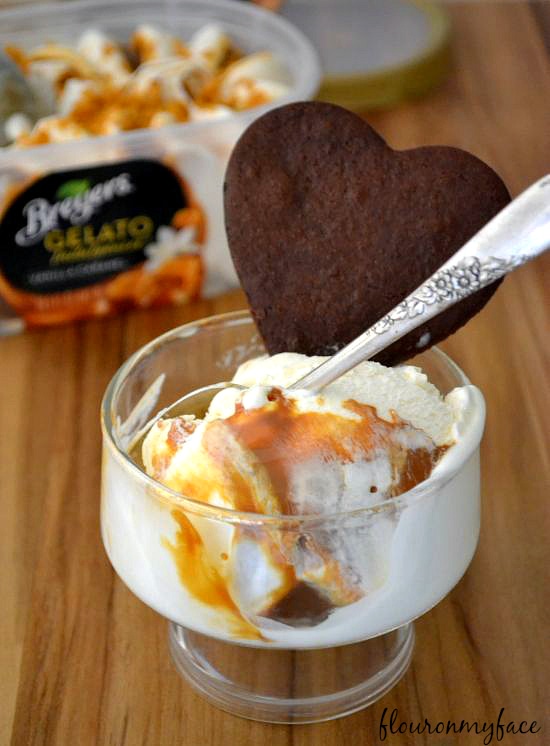 The BREYERS® GELATO INDULGENCES™ Vanilla Caramel is so good. Imagine if you can. Or run out to Target and buy some right now so you can sample it before the big night.
 BREYERS® GELATO INDULGENCES™ Vanilla Caramel is made of creamy vanilla gelato with sweet caramel sauce and is covered with gourmet caramel curls . Ummm… I can't wait to try the Breyers Raspberry Cheesecake Gelato which I am sad to say was all sold out when I was shopping at Target.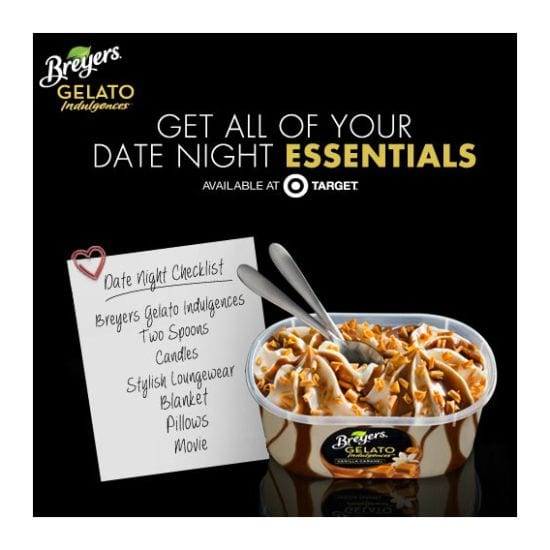 Breyers wants to give you a relaxing and satisfying date night that feels just as indulgent as any big night out. Head to Target to pick up all of your Valentine's night essentials including Breyers Gelato Indulgences, 10% off through Cartwheel from 1/25 – 2/15.
Do you know what the Target Cartwheel App is? No? Me either,  until about a week ago that is.  I don't know how I missed it because I all but live at Target.
The Target Cartwheel App is a great way to save even more money while shopping at Target. And until February 15th you can save 10% off Breyers Gelato Indulgences. 
Oh and by the way  you can stack your other Target coupons and Red Card discount on top of the Cartwheel discounts. Now that makes the Cartwheel discount almost as sweet as a bowl of BREYERS® GELATO INDULGENCES™ Vanilla Caramel!
Which Breyers Gelato flavor would you like to try? Use the Rafflecopter form to Tweet me your answer using #ReasonToSpoon for a chance to win a $50 Target GiftCard to use towards your next BREYERS® GELATO INDULGENCES™  purchase.