Bolthouse Farms Juice Tasting
#CarrotFarmers
Disclosure: This is a sponsored post on behalf of One2One Network for Bolthouse Farms fruit and vegetable juice. All opinions stated are my own.
This past weekend I had a chance to get the family and a few friends together to sample a variety of Bolthouse juices. Bolthouse Farms is a group of carrot farmers with 95 combined years of experience in growing fruits and vegetables. They have over 30 beverage products. Ranging from 100% carrot juice, carrot juice blends, breakfast smoothies and protein shakes and even season holiday treats. They even have a chai tea and mocha cappuccino drink that is healthy as all of the juices from Bolthouse are.
Out of the ten flavors we sampled there were a few flavors that everyone loved. There were also a few flavors that my faint at heart family didn't like at all. It has been a while but I have been known to whip up a green smoothie to get my morning started. So I was more open to trying some of the more "exotic"flavors.
 As with most vegetables some of the family will love them and some will hate them. When I picked the flavors to sample I tried to pick flavors I thought most of my guests would enjoy. 
At our Bolthouse Farms sampling party we sampled
100%Carrot Juice

Carrot Orange

Mango Ginger Carrot

Mango Coconut Splash

Amazing Mango

*Multi V Goodness Smoothie

*Strawberry Banana Smoothie

Vanilla Chai Tea

*Mocha Cappuccino

*Green Goodness Smoothie
Before I get to what our favorite Bolthouse Farms juice flavors were I want to let you know about a great opportunity to score an awesome $1.50 coupon off a bottle of Bolthouse Farms beverages.  Now through December 31st, anyone who 1) Snaps a pic of a Bolthouse Farms bottle or ad, 2) Uploads it to their public Instagram account, and 3) Tags the photo with #CarrotFarmers and #GotCoupon will get a $1.50 off coupon from @BolthouseFarms in the comments field.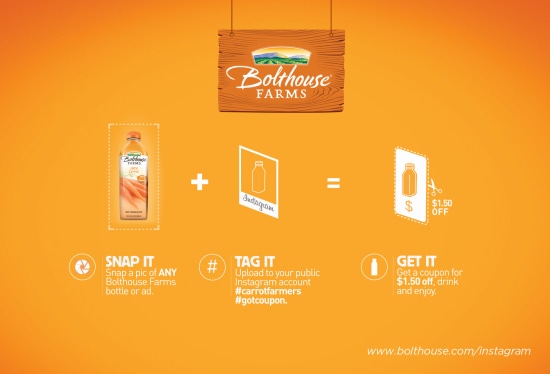 Now that's a great way to score a high value coupon for Bolthouse Farms beverages.
The overall favorite Bolthouse Farms flavor at our taste testing party was hands down the Strawberry & Banana Breakfast Smoothie.
The second favorite flavor was the Mocha Cappuccino.  I loved the Green Goodness and all of the mango juices.
I love the way each bottle tells you how much of each fruit or vegetable is in it. For example the Strawberry Banana Smoothie has 19 strawberries, 1 banana and 1 1/2 apples.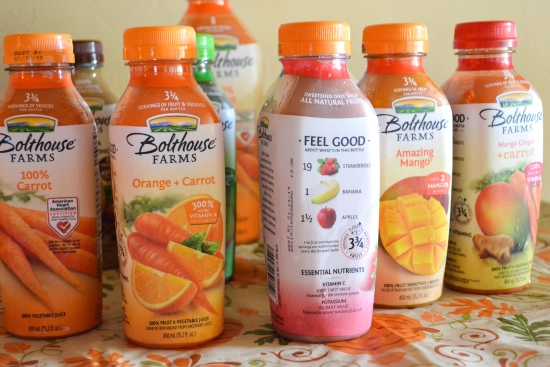 That one bottle of  Strawberry Banana Smoothie has 3 3/4 servings of fruit. 100% of your Daily Value of vitamin C and 9% Daily Value of Potassium. Bolthouse Farms juices are packed full of healthy goodness and a great way to get those recommend fruits and vegetables in your daily diet. Each bottle lists all the goodness that is in it.
Who is Bolthouse Farms?
Bolthouse Farms products are juiced by a bunch of carrot farmers—they not only grow carrots, but also make delicious fruit and vegetable juices. They've combined 95 years of farming expertise with creativity and innovation. The results: high-quality products made with as much of fresh thinking as fresh ingredients.
They grow it, you gulp it.
Bolthouse Farms are inspiring the Fresh Revolution to change the way people think about and use fresh fruits and veggies—a force of nature!
Bolthouse Farms features 30+ beverages, ranging from carrot juice and carrot juice blends, to breakfast smoothies and protein shakes, and even seasonal holiday treats! 
Bolthouse Farms also cares about the environment and practices Sustainable Farming Practices. Every single piece of every single carrot they grown is used for carrot juice,  cut & peeled into Baby Carrots or carrot time savers like Chips and Matchstix. Even the leftover carrot tops are used as fertilizer in the fields.