This post contains affiliate links. As an Amazon Associate, I earn from qualifying purchases.
Blendtec Blender and Twister Jar Review
Disclosure: Some links are affiliate links. To learn more about them please read my Disclosure and Privacy policy.
Happy Birthday to me. It certainly felt like my birthday a few weeks ago when the delivery truck pulled up and delivered a big box containing a beautiful Blendtec Total Blender Classic Wildside and a Twister Jar.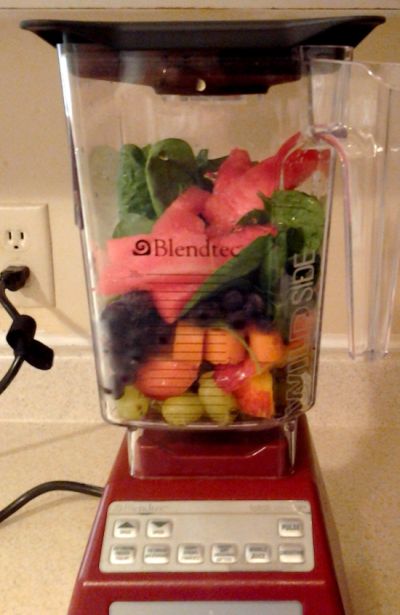 Actually it was my birthday on September 8th and I was hoping to post on my birthday but early Saturday afternoon suddenly my internet went down. I was in the middle of writing this post when it did!
Then it took me a few days to get caught up with everything after being without the internet for a few days. So here we are finally.
Last Monday afternoon when a repair tech finally made it here I found out someone down the road cut the line while installing a fence! Call before you dig people!
Almost 3 days without internet because someone didn't pay attention to the #1 rule when digging in your yard!
Save up to 30% OFF on Blendtec Certified Refurbished Blenders + FREE SHIPPING
In case you have never heard of or seen the awesome Blendtec Blenders here is the product info on the Blendtec Total Blender Classic
Large jar with precision tuned 4" blade package
Smoother blends, less time; take your blending to the WildSide!
New! Total Blender Classic Series® with precision tuned 4" blade, large jar
Total Blender Classic Series® is the all-in-one appliance that makes smoothies, fresh juice, ice cream, milkshakes, cappuccinos, margaritas, soups, sauces, bread dough, dressings, salsas, and more! It replaces up to 9 other appliances with one fast easy-to-use machine, at a fraction of the cost. This package includes the new precision tuned 4" blade in the large nearly 3-quart total capacity BPA-free jar. The new large blade / large jar combination powers through tougher blending tasks and larger recipes with ease, and in less time.
You have seen the unique square jar before. For years blending professionals have used Blendtec machines with the 4" blade in the best coffee shops, juice bars, gyms, and restaurants around the world. Blendtec machines are known for producing the best, most consistent results in taste and texture. With the Total Blender Classic Series, you will enjoy the same great results in your home!
Total Blender Classic Series® comes with our exclusive Smart-Touch Tec-nology™ which means when a cycle button is pushed, the Total Blender Classic Series®automatically speeds up and slows down, then shuts off when the cycle is complete, so recipes turn out perfect every time.
Tired of your blender not being able to crush ice? The Total Blender Classic Series®has so much power (1560 Watts) it turns ice to snow and actually comes with an Ice-Crushing Guarantee. And now with the new precision tuned 4" blade, you can make larger servings and blend whole foods with the added power of the larger blade.
From the home gourmet chef to the everyday smoothie fan, the Total Blender Classic Series® fits your lifestyle. Order now to begin enjoying the benefits of the Total Blender Classic Series and the new precision tuned large jar!
Here is the product info on the Twister Jar
Blendtec's newest innovation, the Twister Jar, is designed to blend your thickest recipes such as: Nut Butters, Hummus, Baby Food, Dips, Thick Shakes, Dressings and more! Best of all, it's compatible with all Blendtec Home Blenders. To use, simply add ingredients and twist the lid counter-clockwise while the blend cycle is running. This twisting motion forces the ingredients from the sides of the jar back into the blade, achieving a perfect blend every time. We'll also include our new spatula that has been engineered specifically for the Twister. We made this spatula just the right length and shape to get nearly every morsel out of your jar.   Package Includes:
Twister Jar with easy to read jar markings
Twister Lid with patent pending scraper tines
Customized 12.75" (32.38cm) Blendtec Spatula
Patented wingtip blade
I have had many blenders over the years. But I've never had one like the Blendtec Total Blender.
My husband loves to make peanut butter milkshakes in the blender. He has a very interesting way to make them.
More on that in a moment.
I have had many blenders where the motor has burned out. Can you guess why?
I don't think I will have to worry about the motor on the Blendtec Blender burning out!
The first thing I made in the blender was frozen yogurt.
It turned out great. The kids loved it.
A few of the things I love about this blender is that it replaces my food processor. I only use the food processor for a few things like when I make deviled eggs, grind almonds for almond flour and chop up peppers and onions when I am making a salsa. I can't use the food processor to make things like smoothies, soups or juice like I can with the Blendtec blender.
I will be able to use the Blendtec for everything that the food processor would do plus the things I would use a blender for.
I also love the shape of the jar. It is short and square. None of my other blenders would fit on my counter under the cabinets because they were too tall.
Last year I was making green smoothies in the morning. But because my blender wouldn't fit on the counter I lost interest because every morning I would have to pull the blender out from under the cabinet, make the smoothie, wash it out and stick it back under the counter.
I can't tell you how many times I pricked my finger tip with the sharp blade and cut myself. Please tell me I am not the only one to ever do that!
Another great thing about the Blentec blenders is they don't have those sharp pointy blades. And cleaning the Blendtec jar is so easy. You don't have to stick your hand in there to clean it and even if you did there aren't any sharp pointy parts to cut yourself on.
Because the motor is so much stronger then a regular blender all you do is put a little water in the jar with a drop of dishwashing liquid and pulse for a couple of times. It removes everything from the jar.
Pour out the soapy water and rinse. Your done and haven't put your fingers in danger.
I am going to start making green smoothies again!
Here is the first one I made in the Blendtec blender.
Blendtec Smoothie Recipe
Ingredients
30 grapes
1 nectarine, pit removed!
1 small carrot cut up into 12 inch pieces
¼ cup frozen blueberries
⅓ cup of watermelon chunks
a large handful of spinach
half cup of ice
Directions
Add all the ingredients to the blender jar and hit the pre-programmed smoothie button.
The blender  shuts off when the smoothies cycle is complete.
Pour into a glass and enjoy. This makes enough for one large glass or two small. I forgot to measure and I was sharing my smoothie with one of my daughters and one of my granddaughters the day I made this.
I mentioned my husband and his peanut butter milkshakes earlier and I am sure you're wondering why I would mention it and burnt out blender motors.....well when my husband makes his peanut butter milkshakes he doesn't put any milk in them!!
How can you have a milkshake without any milk? I've asked him this many times. What he does is softens the ice cream in the microwave, adds more then half a gallon of softened ice cream to the blender and a  bunch of peanut butter then let's the blender rip.
He has burnt out the motor on at least five blenders in the 30 years we have been together. It's probably more then that. I had to hide my blender and make him go buy one just for his milkshakes.
Then he would burn one out and search the house for my hidden blender until he found it!
Now he can use the Blendtec blender and I won't have to worry about anymore burned out blender motors.
That is if I let him use it!
Disclosure: I received the Blendtec Blender and Twister jar pictured here to help me write a review of this product. All opinions are my own.