This post contains affiliate links. As an Amazon Associate, I earn from qualifying purchases.
Blackberry Clafoutis
Disclaimer: This is a sponsored and compensated post for Domino Sugar. All of the opinions expressed are my own.
Domino Sugar has a new light sugar blend made with natural pure  sugar cane and stevia that has half the calories as sugar.
That's over a 350-calorie savings in each cup! By blending pure cane Domino® Sugar with a naturally sweet extract from the stevia plant, they have created a delicious sweetener with no artificial ingredients. Domino® Light is the ideal sweetener — a perfect sweet taste and half the calories of sugar!
This opportunity couldn't have come at a better time for me. You see I have been trying to find a low calorie sweetener that tastes good and doesn't have much of an aftertaste.
In the past couple of months I have tried four other low calorie sweeteners.
I had settled on one and then my samples of Domino Light came. I've used it to sweeten my coffee and was very happy with the way it sweetened. It also doesn't have a horrible aftertaste like the other brands I have been trying.
But the big test was to bake something with it and see how it stood up to the baking process. To be honest I have not baked with any other low calorie sweeteners so I have nothing to compare it to.
So I decided to bake a recipe I had never tried. This way I would be tasting the recipe and deciding if the recipe tasted sweet enough and good enough for me to enjoy. I figured if the recipe didn't taste good I would then bake it again using regular sugar and comparing the two.
I didn't have to bake the recipe again. I was very happy with the taste and sweetness of this Blackberry Clafoutis recipe that I made.
The cake / custard had just enough sweetness. I could not detect any off flavor that I might expect with a low calorie sweetener. Matter of fact had I been served this dessert anywhere and not known that a low calorie sweetener had been used I would have been very surprised.
I've had this clafoutis recipe in my recipe folder on my desktop for a few months. I found it at A Way To Garden  I've changed it up a bit. A clafoutis is  a French recipe. And one my my favorite French things is creme fraiche. I've been addicted to it since I learned how to make it myself sometime last year. I decided since a clafoutis was a French dessert I was going to add a bit to the recipe and also use it as a topping.
If you've never tastes creme fraiche let me encourage you to make some and try it as a sweetened topping for any dessert you might use whipped cream on.
It also makes a lovely topping for a fruit dessert.  Or you can mix it with a bit of lemon or orange curd and put a spoon full or two or three on some fresh strawberries. Oh my it is so good!
Print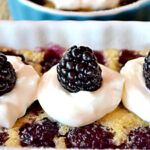 ---
Scale
Ingredients
Makes

5

mini or

one

9 inch Clafoutis
Fruit of choice

1 pint

fresh blackberries
You may need more berries if your using a nine inch pan.
Batter

½ cup

Domino Light

½ cup

milk

¼ cup

heavy whipping cream

¼ cup

homemade crème fraiche

3

large eggs

2/3 cups

unbleached all-purpose flour

1 tsp

vanilla
A pinch of salt
---
Instructions
Prepare pans by buttering and coating with sugar.
Put all the ingredients for the batter in a blender.
Blend on high about 2 minutes. Half way through; scrap down the sides of the blender.
Set aside and arrange the fruit in the bottom of your mini pans or a nine inch pie plate or glass tart pan.
Reserve a hand full of berries for garnishment.
Place enough berries in the bottom of the mini pans or nine inch baking pan to cover the bottom.
Pour the remaining batter over the fruit to fill your pan about ¾ of the way.
Bake for 30-35 minutes if using the mini pans, 35-45 minutes if using the larger nine inch pan until golden.
Top with my crème fraiche whipped topping or whipped cream.
Garnish with the reserved blackberries.
---
Recipe Card powered by