Activia Challenge I Made It Giveaway
Disclosure: I have partnered with Dannon to help promote the Activia Challenge. I have been compensated for my time commitment to take the challenge and write about it. However, my opinions are entirely my own and I have not been paid to publish positive comments.
 Congrat to Gary. V for winning last weeks giveaway prize! So here we are at the end of my 4 week Activia Challenge. I'm happy to say I made it and I feel great! Did you join me in the 4 week Activia Challenge? How do you feel? Did you enter one of my Activia Challenge giveaways? If you did then keep reading because I will be picking a grand prize winner from the entries of the two previous giveaways.
One person from the previous two entries will be picked and win a $75 gift card,  10 full value product coupons and an insulated lunch bag so they can bring Activia with them on the go. I will announce the winner at the bottom of this post.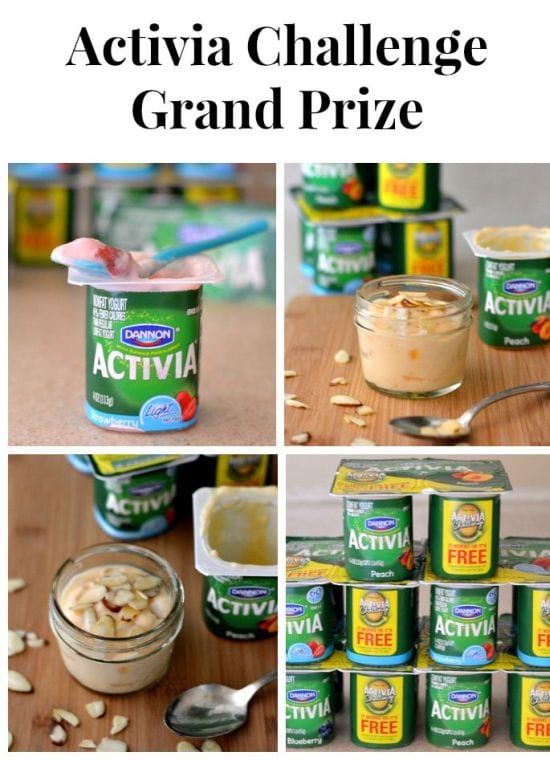 No one likes to feel uncomfortable, bloated, gassy, or rumbling, including me. That's why I took the Activia Challenge! Eating Activia twice a day for four weeks, as part of a balance diet and healthy lifestyle, may help reduce the frequency of minor digestive issues like bloating, gas, discomfort and rumbling.
 I am so happy I took the challenge! The past four weeks have been interesting. During the first week or so I started noticing changes. I also noticed that my stomach was adjusting to me eating yogurt every day. I love yogurt and eat it all the time. But I have never eaten yogurt more than a day or two in a row. As with making any dietary changes there can be an adjustment period. 
 After the first week of eating Activia yogurt twice a day I noticed  changes. The biggest change I noticed was that after eating my other meals I didn't feel as bloated. My stomach felt so much better overall.
I tried many different flavors of Activia yogurt over the past four weeks like the strawberry, black cherry, peach and blueberry but I had my favorites. I loved the regular Activia yogurt the most verses the Greek yogurt. To be fair the stores I shopped at did not carry many different flavors in the Activia Greek style yogurt. I bought flavors that I would not normally eat in the Greek style Activia so I could try the Activia Greek yogurt. I did like the thickness of the Greek yogurt. Some Greek yogurts are way too thick for my liking. This wasn't the case with the Activia Greek yogurt. And as I continue making Activia yogurt a part of my daily diet I will try some of the other flavors of the Greek yogurt.
All in all I am happy that I took the Activia Challenge and will continue to eat it every day. It has made a huge difference in the way my stomach feels. 
Even though the 4 week challenge is over I'm going to keep enjoying Activia's variety of products! I am going to keep my refrigerator stocked with Activia peach and cherry yogurt for a quick, healthy snack because I feel better when I eat Activia!
Congrats to Sandy. H she is the winner of the Activia prize pack!
Giveaway Terms
August 25, 2014 – September 28, 2014. Administrator: Mom It Forward; Sponsor: Legend PR. The Dannon Company, Inc. is included in rights granted hereunder. No purchase necessary to enter. No more than one entry per person via each of the methods listed in the Giveaway details.  The odds of winning a Giveaway depend on the number of eligible entries.  Winners will be selected randomly by Mom It Forward using http://random.org as a selection tool. All decisions of Mom It Forward are final.  Employees of Mom It Forward and the Giveaway sponsor are not eligible to participate. All entries received after the Giveaway closing date and time will not be considered. Entries that do not follow all of the entry requirements will not be considered. Winners will be notified via email and will have 24 hours to confirm receipt of the e-mail. If the winner does not reply within 24 hours, another winner will be selected. Open to participants in the US (excluding the following states: NJ, CA, TN, NV, ND and LA)  and Canada who are 18 years and older. Void where prohibited. Taxes on Giveaways are solely the responsibility of the winner.  Winner agrees to permit Mom It Forward and the Giveaway Sponsor to use her or his name, voice, photo, or likeness for reasonable promotional and marketing purposes for up to 90 days after the end of the Giveaway.  Mom It Forward and Sponsor are not liable for late or misdirected entries, entry errors, or transmission problems. Mom It Forward reserves the right to terminate the Giveaway in the event of technical problems, or to correct typographical or technical errors, or to amend these rules. All participants should review the Mom It Forward disclosure and privacy policies. By entering, participants agree to release and hold harmless Mom It Forward, Sponsor, The Dannon Company, Inc., and their respective parents, subsidiaries, affiliates, directors, officers, employees, and agents from any and all liability or any injuries, loss, or damage of any kind arising from or in connection with a Giveaway. Mom It Forward will provide the name of the winner for any Giveaway, upon request via email to Mom It Forward, for 90 days after that Giveaway's entry period ends. Unless otherwise provided by the Sponsor, no substitution, transfer, or assignment of prizes is permitted.  Non-winning entries from one Giveaway are not carried forward to future Giveaways.