60 Recipes using Fresh Herbs
Looking for recipes to use all those fresh herbs you have been growing? Or maybe you have been buying a few bunches of fresh herbs at the farmers market. After you get them home you're not sure what to do with them.  Take a look through this round up of 60 Recipes using fresh herbs .  You will find many delicious recipes to use up the overabundance of fresh herbs.
Summer is my favorite time of year. I love to have a few herb plants growing. Nothing satisfies me more then being able to walk out the back door and snip fresh herbs while I am cooking. Basil, chives, parsley, and rosemary always seem to show up in my container herb garden.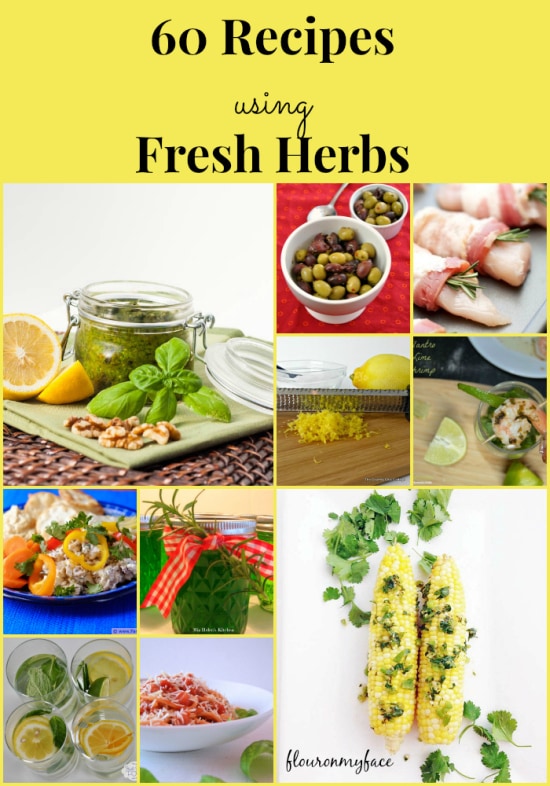 This year I also have calendula and dill growing. Each year the herbs i grow change. But I always seem to have basil, chives, parsley and rosemary growing. They are my four favorite herbs to grow. 
One of my favorite ways to use herbs is to make a simple syrup and make herbal soda or use it to flavor iced tea. Lemon Verbena and Lemon Basil are two herbs that I like to use for summer beverages. 
I've picked out a few recipes to try myself. I'm sure you will agree these 60 Recipes using Fresh Herbs are mouth watering and I am sure a few are soon to become your favorite recipes using fresh herbs.
60 Recipes using Fresh Herbs
Rosemary Tomato Bacon Grilled Cheese by Flour On My Face
Lemon Rosemary Pork Chops with Arugula Salad by Healthy Seasonal Recipes

Spaghetti All'amatriciana  by Mooshu Jenne

Herbal Water by Just Us Four 
Butternut Squash & Sage Pesto Gratin by Take a Bite Out of Boca
Basil Pesto by Take a Bite Out of Boca
Homemade Basil Pesto by Practically Functional
Blackberry Lemon Basil Gelato by Flour On My Face
Cucumber Infused Water by Krystal's Kitsch 
Rosemary Lemon Feta Spread by Snappy Gourmet
Lemon Marinated Olives by All Four Burners
10 Ways to Use Mint by Little House Living
Avocado Basil Pasta by The Kitchen is My Playground

Rosemary Dinner Bread by  I'm Topsy Turvy

Salmon Cakes with Dill by The Country Chic Cottage
Pesto Chicken Salad by Just Us Four Blog
Lemon Rosemary Salt by The Country Chic Cottage
Gorgonzola Blue Cheese Yogurt Dip by All Four Burners
Fresh Herb Pizza by Farm Fresh Feasts
Green Beans with Basil Vinaigrette  by Healthy Seasonal Recipes
Rosemary Garlic Bread by Flour On My Face
Basil Sun Dried Tomato Pinwheels by Crystal & Comp
Warm Rosemary Olives by The Kitchen is My Playground
Strawberry Basil Scones by Just Us Four Blog
Lemon Rosemary Grilled Chicken by It Is a Keeper
Cilantro Lime Jalapeno Corn by I Eat Therefore I Cook
10 Ways to Use Cilantro by Little House Living
Fusilli & Creamy Arugula Pesto Roasted Vegetables by I Eat Therefore I Cook
Classic Pesto Recipe by Meaningful Mama
Strawberry Basil Scones by Just Us Four Blog
Caprese Salad Bites by Meaningful Mama
Slow Cooker Bolognese Sauce by All Four Burners
Two Bean Soup with Spinach, Rosemary & Thyme by All Four Burners
Colorful Greek Chicken Salad Plate by Farm Fresh Feasts
Jalapeno Lime Salmon Foil Packets by I Eat Therefore I Cook
Fresh Green Bean & Walnut Feta Salad by The Kitchen Is My Playground
Spaghetti Squash Egg Muffin by Just Us Four Blog
Strawberry Marsala Jam w/ Rosemary by All Four Burners
Cherry Tomato Mozzarella Basil Appetizers by  Faith Filled Food for Moms
Summer Squash Quiche by Miz Helen's Country Cottage
Cilantro Lime Shrimp by Leave No Leftovers
Fresh Herb & Sausage Stuffing by Women Living Well
Bacon, Herb Cheese Bread by Flour On My Face
Basil Lemon Pepper Chicken Breasts by 3 Boys and A Dog
Elizabeth's Rosemary Lemonade by Family Fun Journal
Smoked Salmon Spread by All Four Burners
Vegan Basil & Spinach Pesto by Avocado Pesto
Bacon Garlic & Parm Potatoes by Summer Scraps
Easy Healthy Homemade Marinara  by Women Living Well 
Greek Salad with Mixed Greens by All Four Burners
Glazed Carrots with Rosemary by I Love My Disorganized Live
Slow Cooker Rosemary Pork by Miz Helen's Country Cottage
Rosemary Jelly by Miz Helen's Country Cottage
Grilled Pork Chops w/ Rosemary Garlic Rub by It Is a Keeper
Bacon Rosemary Wrapped Chicken by Spaceships and Laserbeams
Lemon Basil Herbal Soda by Flour On My Face
One Pan Basil Stuffed Chicken by True Aim Education
Grilled Fruit Kabobs by Just Us Four Blog
Chimichurri Chicken Salad by Farm Fresh Feasts
Melon Basil Sorbet by All Four Burners