25 Appetizing Farmers Market Recipes
Planning a trip to the Farmer's Market this weekend? Then you are going to need these 25 Appetizing Farmers Market Recipes. Check out the recipes before you go and you can pick up all the fresh farmer's market produce to make your favorite when you get home.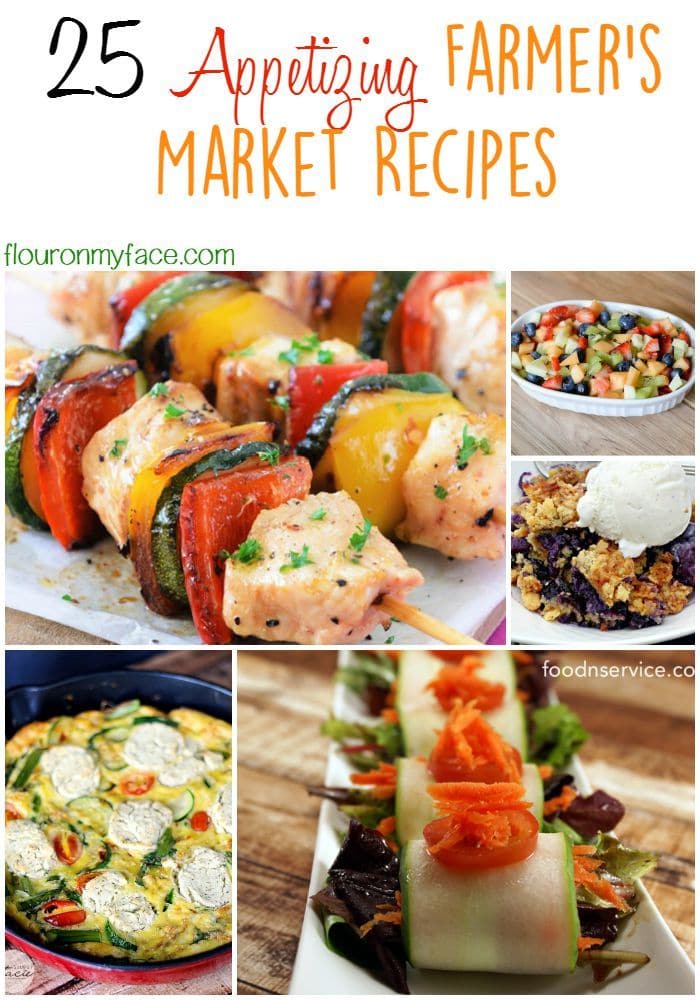 I don't know if you have seen me talk whine about how jealous I am in the summer when I see/read about all of you visiting your local Farmer's Markets.
You see down here in Florida our Farmer's Market season runs from October to April. So when most of you are knee deep in snow I am visiting some of my favorite Farmer's Markets.
It's the same for backyard gardening and the Florida vegetable growers. In the summer, it is so hot and rainy here that most vegetable and fruit plants can't survive. But, during the winter we usually have the perfect weather for gardening and commercial vegetable growing.
We do have a few vegetables and fruits that are in season during the summer months like watermelon and corn, but the big growing season is during the winter months.
So when you are knee deep in snow don't be surprised when I start talking about my trips to the Farmer's Markets.
1. Grilled Corn On The Cob
2. Fruit Salsa
3. Blueberry Dump Cake
4. 5 Bean Salad
5. Fresh Grilled Shrimp & Corn Tacos
6. Crock Pot Vegetable Lasagna
7. Vegetarian Stuffed Sweet Peppers
8. Blueberry Ricotta Cups
9. Refrigerator Garlic Dill Pickles
10. Shrimp Asparagus Tortelini
11. Cucumber Salad Wrap
12. Spring Vegetable Goat Cheese Frittata
13. Vegetable Kabobs
14. Creamy Vegetable Soup
15. Spring Vegetable Salad
16. Quick Fresh Vegetable Quesadillas
17. Lemon Scallion Chicken Vegetable Kabobs
18. Grape Caprese Salad
19. Grilled Chicken w/ Blueberry BBQ Sauce & Corn Salsa
20. Prosciutto Wrapped Melon
21. Cucumber Salad w/ Feta Dressing
22. Caribbean Citrus Habanero Chicken Skewers
23. Orange Marinated Salmon Vegetable Skewers
24. Brussels Sprouts and Chorizo
25. Sweet Potato Fries