Peach Kuchen Recipe
I have been wanting to try this baking in a canning jar thing for a bit now. At first I was going to make a peach cobbler. I thought the cobbler would be a great baking in the jar recipe because peach cobbler is a summertime treat and wouldn't it be great to be able to pack up individual peach cobblers to take on a picnic, or to go to the beach or  to the park.  Instead, I made this Peach Kuchen Recipe.
Then I came across this Kuchen pudding recipe in one  my vintage cookbooks and thought this would be great to try instead of the peach cobbler.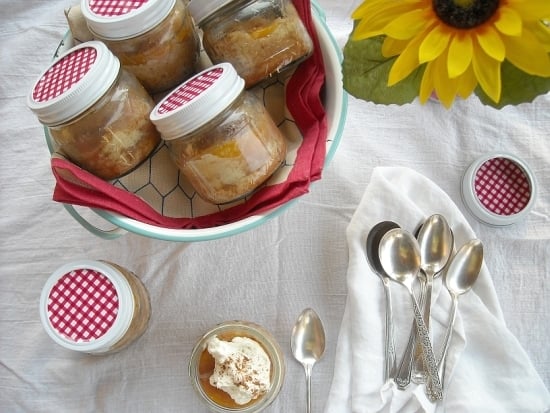 Vintage Kuchen Pudding Recipe Circa 1946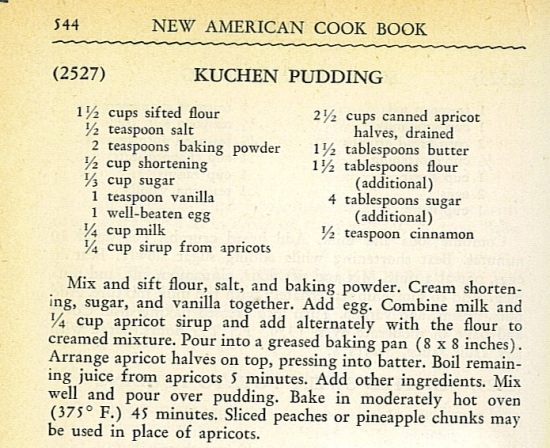 The recipe comes from The Lily Wallace New American Cook Book published in 1946.The cookbook is in poor condition and really needs to be repaired. I handle it with kid gloves every time I flip through it looking for an interesting vintage recipe.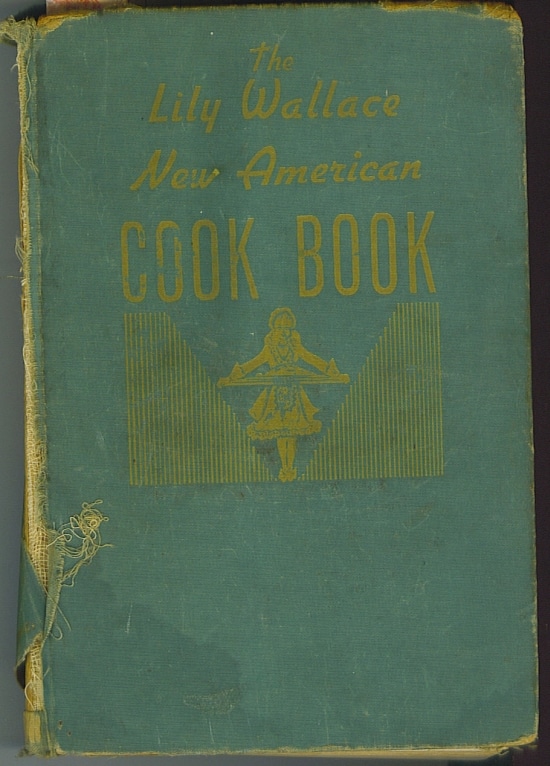 Peach Kuchen Recipe
:
Arlene Mobley - Flour On My Face
Recipe type:
German Dessert Recipe
Ingredients
1 ½ c sifted flour
½ tsp salt
2 tsp baking powder
½ c shortening
⅓ c sugar
¼ c milk or whipping cream
1 well beaten egg
1 tsp vanilla extract or 1 vanilla bean
1 can of sliced peaches in syrup
Directions
Step 1: Mix and sift the flour, salt and baking powder into a bowl. Set aside.
Step 2: Cream the shortening and sugar together until light and fluffy. Add egg and mix well.
Step 3: Combine ¼ cup of the peach syrup and ¼ cup of milk or whipping cream. I used whipping cream.
Step 4: Scrape the vanilla bean into the bowl with the milk or whipping cream egg mixture and mix well. If you're using vanilla extract just add it to the bowl and mix.
Alternately add the flour mixture and the milk mixture to the bowl with the creamed shortening. Mix/beat until combined.
If you're using an 8 x 8 pan spread the batter into the lightly greased baking dish.
If you're using canning jars scoop a scant ¼ a cup of batter and spoon the batter into the canning jars. Use the 8 ounce wide mouth jars. They are easier to fill.
Place 2 peach slices on top of the batter if you're baking in the canning jars. If you are using an 8 x 8 baking dish arrange the peach slices in a nice pattern over the top of the batter.
In a small pot combine the remaining peach syrup, 1 ½ tbs butter, 4 tbs sugar and ½ tsp cinnamon. If you used a vanilla bean add the vanilla bean pod to the pot to add another layer of vanilla flavor.
Heat on medium high: while whisking the flour into the liquid mixture to prevent lumps from forming. Bring the mixture to a gentle boil until thickened.
Spoon this mixture over the top of the peaches and dough.
Place your canning jars on top of a cookie sheet and bake for about 20 to 25 minutes. You don't want the dough to dry out completely. Start checking around 15 minutes. All oven temps vary. At 25 minutes the bottoms were nice and golden.
Notes
Topped with a spoon of whipped cream or even a scoop of vanilla ice cream would be great.