How to Roast a Turkey Breast
Disclosure: This post is sponsored by Farberware Cookware
Welcome to week 3 of 7 in our Progressive Dinner Blog Hop. Back at the beginning of this exciting Holiday Menu Planning event I sent out an Progressive Dinner invitation. Did you get a chance to see it? If you didn't get a chance to see it then you can check it out in my Progressive Dinner Invitation post where you can see the beautiful full color magazine our hostess Glenda from Busy at Home created to announce the big event. It will also give you a sneak peek into what you can expect for the upcoming weeks of our Progressive Dinner Holiday Blog Hop Event.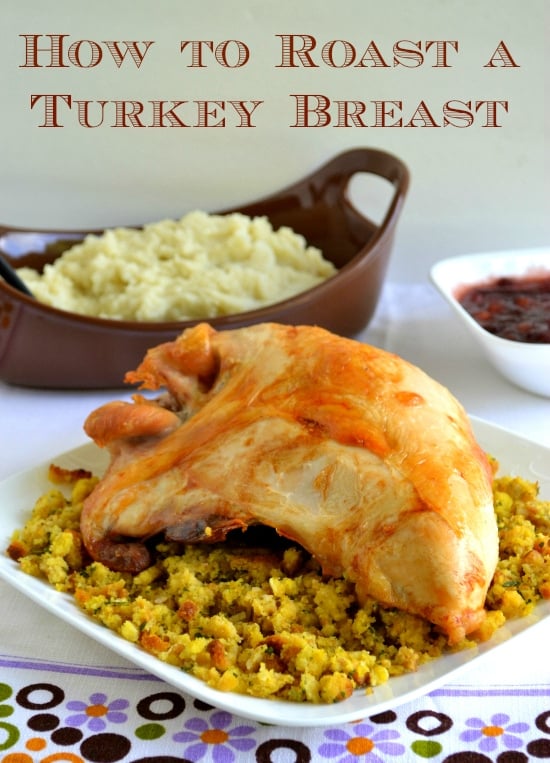 What is a Progressive Dinner?

So what is a Progressive Dinner you might be asking? Well for 7 weeks myself and four other bloggers will each be sharing one course of a holiday dinner menu from appetizers to dessert in a round up style post. 

By the end of the seven weeks each of us will have shared a Main course, 2 side dish recipes, an appetizer, a  dessert recipe and a pot luck or gift from the kitchen recipe.

Below you will find the schedule of the recipes I will be sharing for each week and what giveaway will be available that week. You will find my fellow Blog Hop Bloggers Roundup of Progressive Dinner recipes,  Ziplist  recipe and Rafflecopter giveaway form below at the bottom of each weekly post. 

Be sure to sign up for updates from Flour On My Face so you will know when a new Progressive Dinner post is live and follow Flour On My Face  on Pinterest to see what I've been pinning.
Flour On My Face Progressive Dinner series schedule
To see what the rest of this weeks Progressive Dinner recipes are check out the links below.
Holiday Progressive Dinner Week 3 Recipe Links
Roasted Pumpkin Soup
at Adventures in All Things Food
Roast Turkey Breast
at Flour on My Face
Apple Cranberry Salad and Mandarin Orange Tapioca Salad
at Busy-at-Home
Mashed Potato Puff
at The Gunny Sack
Pumpkin Spice Profiteroles With Warm Cranberry Red Wine Compote
at Daily Dish Recipes
 How to Roast a Turkey Breast
If you have a large family or you normally host holiday dinners you have probably only cooked a whole turkey for your holiday dinners. But what if you don't have a big family and making a whole turkey is just too much turkey for your size family. You can still enjoy turkey for holiday meals. Roasting a turkey breast is the perfect solution to holiday cooking for a small family.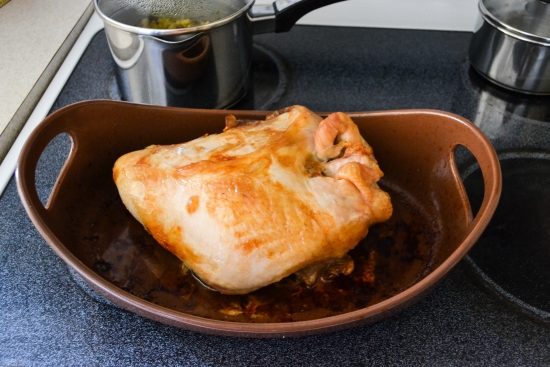 Progressive Dinner: How to Roast a Turkey Breast
:
Arlene Mobley - Flour On My Face
Recipe type:
Holiday Turkey Breast
Ingredients
1 three pound Turkey Breast
2 tablespoons butter
aluminum foil
salt and pepper to taste
Directions
Rinse turkey breast with cold water and pat dry with paper towels.
Place the turkey breast, skin side up in a roasting pan.
Rub skin with butter. Salt and pepper if desired.
Cover the entire roasting pan, slightly tenting the aluminum foil over the turkey breast.
Bake the turkey breast 1½ hours in a350 degree preheated oven.
Remove the foil and bake an additional 20-30 minutes to brown.
Remove turkey breast from the oven.
Allow turkey to rest at least 10 minutes before carving.
Notes
Always cook poultry thoroughly. If in doubt use a meat thermometer. Poultry should be cooked to an internal temperature of 170 degrees.
Farberware Cookware review:
When it comes to cookware I've learned a few things over the years. The most important lesson I have learned is to buy a quality brand you know you can trust. Farberware is a brand I have bought over the years and have always been very happy with. The pots and frying pans are quality cookware that lasts forever. I have a set of saucepans and a huge stock pot that was a Christmas gift over ten years ago that I am still using.
This set of cookware is made of the same high quality I know I will still be using for many years from now.  I love that the medium size saucepan has pouring spouts on both sides of the pan.
For your chance to win a set of these long lasting high quality Farberware pots and pans enter below in the rafflecopter giveaway form.
Connect with Farberware on the web.