Progressive Dinner: Easy Apple Cranberry Compote
 Disclosure: This weeks Progressive Dinner sponsor is Crock-Pot

Welcome to this weeks Progressive Dinner Blog Hop. My recipe this week is for an easy semi homemade Apple Cranberry Compote. I say semi homemade because this recipe starts with a can of whole berry cranberry sauce. Our sponsor for this week is Crock-Pot and one lucky winner will win a set of the new Crock-Pot® Hook Up™ Connectable Entertaining System.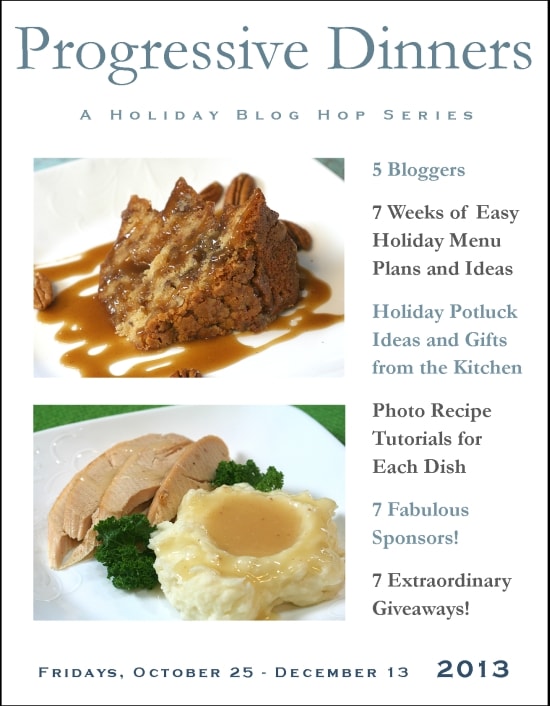 Welcome to week 5 of 7 in our Progressive Dinner Blog Hop. During week 1 I sent out a Progressive Dinner invitation. If you didn't get a chance to see it you can check it out in my Progressive Dinner Invitation post where you can see the beautiful full color magazine our hostess Glenda from Busy at Home created to announce the big event. It will also give you a sneak peek into what you can expect for the upcoming weeks of our Progressive Dinner.
What is a Progressive Dinner?
So what is a Progressive Dinner you might be asking? Well for 7 weeks myself and four other bloggers will each be sharing one course of a holiday dinner menu from appetizers to dessert in a round up style post. 
By the end of the seven weeks each of us will have shared a Main course, 2 side dish recipes, an appetizer, a  dessert recipe and a pot luck or gift from the kitchen recipe.
Below you will find the schedule of the recipes I will be sharing for each week and what giveaway will be available that week. You will find my fellow Blog Hop Bloggers Roundup of Progressive Dinner recipes,  Ziplist  recipe and Rafflecopter giveaway form below at the bottom of each weekly post. 
Be sure to sign up for updates from Flour On My Face so you will know when a new Progressive Dinner post is live and follow Flour On My Face  on Pinterest to see what I've been pinning.
Flour On My Face Progressive Dinner series schedule
To see what the rest of this weeks Progressive Dinner recipes are check out the links below.
Holiday Progressive Dinner Week 5 Recipe Links
Potluck Dishes to Get You through the Holiday Rush
Crock Pot Meatballs and Loaded Baked Potato Casserole
at Busy-at-Home
Famous Dirt Dip
at Adventures in All Things Food
Easy Apple & Cranberry Compote
at Flour on My Face
Potluck Corn and Black Bean & Cilantro Salsa Dip for a Crowd
at Daily Dish Recipes
Nacho Bar
at The Gunny Sack
This week I am sharing a very easy but delicious recipe for an Apple & Cranberry Compote. A perfect recipe for your Thanksgiving celebration.This recipe can be made in a crock pot or on the stove in a sauce pan. I have made it both ways and it turns out great either way.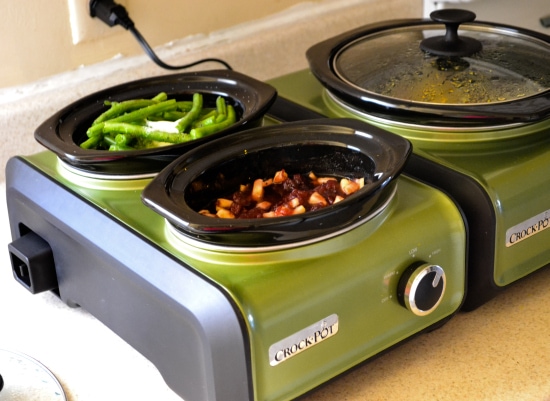 Crock-Pot® Hook Up™ Connectable Entertaining System review
The Crock-Pot Hook Up Connectable Entertaining System is perfect for cooking your Thanksgiving or Christmas meals. It is perfect for any get together where you need to cook more than one recipe at a time in a crock-pot. They come in a variety of sizes.  There are three sizes to choose from: 2-1 quart, 2 quart and 3 1/2 quart. You can use each size alone or connect all three together and cook 4 different recipes. You can connect up to six of the units together.
The 2-1 quart system is perfect for warm dips or two side dishes. For easy storage they stack on top of each other.
It's a great system and I will be using it to cook most of my Thanksgiving dinner this year.
Scroll to the bottom of this post to enter the rafflecopter form for a set of this new Crock-Pot system. Good luck!
Visit the Crock-Pot for more information about the new connectable system. Check them out on Facebook, Twitter and Pinterest. 
Progressive Dinner | Easy Apple Cranberry Compote and Crock-Pot Giveaway
:
Arlene Mobley Flour On My Face
Recipe type:
Thanksgiving Side Dish
Ingredients
1 can whole berry cranberry sauce
1 apple, peeled, cored and diced
1 large orange
Zest and juice from orange.
¼ teaspoon cinnamon
2 tsp cornstarch
½ cup water or orange juice
Directions
For Stovetop cooking in a saucepan
Zest and juice orange. Add to a medium saucepan.
Peel, core and dice the apple. Add to a saucepan and toss with orange juice.
Place cranberry sauce and cinnamon in saucepan.
Heat on low in the saucepan until cranberry sauce has liquefied.
Turn heat up to medium in saucepan and cook until apples are tender.
Turn heat up to high and bring to a boil.
Add 2 teaspoons cornstarch to ½ cup water or juice and mix well.
Add to cranberries and apples once they come to a boil.
Stir until thickened. Immediately remove from heat.
For Crock-Pot cooking
Once all the ingredients have been added to the crock-pot cook on high for 1 hour stirring occasionally.
Once the apple pieces are tender mix 2 tsps of cornstarch with ½ cup water or orange juice.
Stir into cranberries and apples until thickened. Turn crock-pot to warm.
Serve with dinner.