How to Make Coleslaw
I'm very particular about my coleslaw. I want it made just so. I want the dressing to be slightly sweet and tangy and I want the cabbage chopped very fine.
How to make a Sweet Coleslaw
 Ingredients
 8 cups finely chopped cabbage (I used ¾th of a big head of cabbage)
¼ cup shredded carrot
 Dressing Ingredients
 1/3 cup sugar
¼ cup milk
¼ cup buttermilk
½ cup mayo
2 ½ tablespoons lemon juice
1 ½ tablespoon white vinegar
½ tsp salt
¼ tsp pepper
Directions
Mix all the dressing ingredients in a large bowl and set aside.
Chop cabbage finely.
Toss cabbage with dressing.
Refrigerate at least 3 hours before serving.
 Have you ever wondered how to get the cabbage chopped into tiny pieces for coleslaw? Check out my short little video below.
You don't need any new fangled kitchen gadgets. Or a special set of knives. You don't need a food processor although I do have one. I don't use it even though it would make the job of chopping cabbage up for coleslaw so much easier. Truth be told I have no idea if a food processor even chops cabbage as finely as I can do it by hand because I have never tried it.
The first thing you want to do when making coleslaw is to mix up your dressing. You don't have to do it first but any time you are adding granulated sugar to a dressing recipe you want to give the sugar time to dissolve. So if you mix up your dressing first by the time you are ready to mix it in with the cabbage the sugar will have dissolved.
Mix the dressing ingredients together and set aside.
This recipe makes enough coleslaw for a crowd. If you're not feeding a crowd you can divide the recipe in half.
This is how I cut the cabbage. That huge head of cabbage can be hard to control but once you get it cut in half it's easier to work with.
Cut your cabbage in quarters and peel your carrot
Carefully cut the cabbage in half with a sharp knife. I use a serrated knife and for me it is easier to cut the cabbage into two even pieces. The serrated blade bites into the cabbage and I don't have to worry about the knife slipping. 
You might think cutting at the core end would make things easier but it doesn't. Cut from the other end for this first cut.
 Once you have your head of cabbage cut in half cut the halves in half.
Now you have four easily managed pieces of cabbage.  
Using your knife on a diagonal slant cut the thick and unappetizing core from each quarter.
Remove the core from the cabbage and grate your carrot.
Thinly slice one quarter piece of cabbage at a time.
Chop your cabbage finely.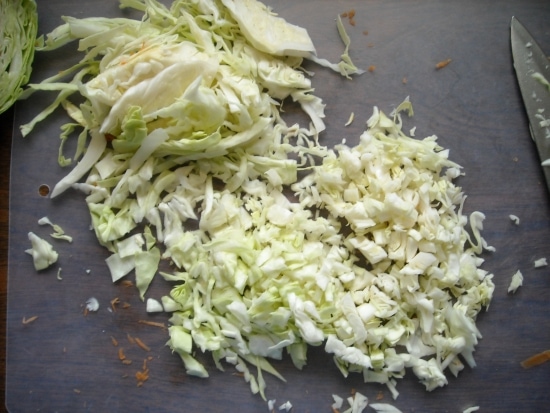 Using a rocking motion of your knife chop the cabbage into a very small dice
Finely chop the thin slices of cabbage
Finely diced cabbage for coleslaw
8 cups of chopped cabbage
 Throw it together in a big bowl and pour the dressing over it. Mix it up real good. It may look like there is not enough dressing but don't worry the cabbage will release some moisture and there will be plenty of dressing.
Chopped cabbage and carrots for coleslaw
Homemade Coleslaw
Chill for at least 3 hours before serving. Over night is better.