Crock Pot Beef  Vegetable Soup
One of my favorite ways to use my crock pot (affiliate link) is for recipes like this Crock Pot Beef Vegetable Soup. This summer I am in love with my crock pot. I am using it more and more. I normally don't make much soup during the summer months. Soup is normally one of those meals we enjoy during the cold winter months when we need to knock the chill from our bones.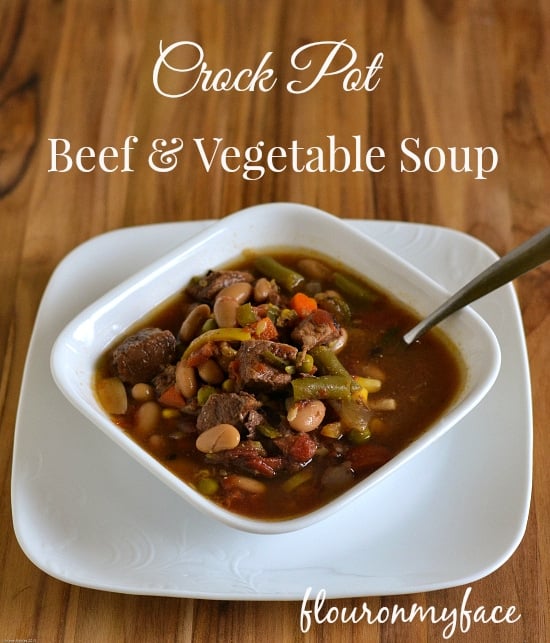 Last week while I was grocery shopping I came across the most perfect package of beef stew meat that I have ever seen. The meat was perfectly marbled, cut in perfect bite size pieces and all fat trimmed. I couldn't pass it up. 
This Crock Pot Beef Vegetable soup recipe is a delicious, healthy, low sodium and low carb crock pot soup recipe. I have been on a health kick lately and have been watching my salt intake and have cut way back on the carbs I have been eating.  To add some seasoning without added sodium I used Mrs Dash Garlic & Herb Seasoning (affiliate Link). It is a great all around seasoning without salt. 
I added some zucchini and yellow squash to this Crock Pot Beef Vegetable soup. It is my secret ingredient when it comes to soup recipes that have lots of vegetables in it. I discovered it a few years ago when I was making a pot of vegetable soup and I had an over abundance of zucchini on hand. On a whim I added some to my pot of soup. It really adds a depth to the flavor to the broth. 
Easy Crock Pot Beef & Vegetable Soup
Ingredients
1½ lbs lean beef stew meat
4 cups low sodium beef broth
1 14.5 oz can Hunt's Dice Roasted Tomatoes
1 small green pepper, diced
1 small peeled onion
4 cloves fresh garlic, peeled and chopped
1-3 bay leaves
1-2 teaspoons ground pepper
½ teaspoon garlic salt (optional)
1 teaspoon Mrs Dash Garlic & Herb seasoning
2 cups frozen mixed vegetables
1 can cannellini beans, drained and rinsed well.
1 small yellow squash, sliced into rounds
1 small zucchini, sliced into rounds
Directions
Place the first 10 ingredients into a crock pot set on high.
Cook for 4 hours occasionally stirring.
After 4 hours add the beans, mixed vegetables, yellow squash and zucchini to the crock pot.
Adjust seasonings if needed.
Cook for another 2 hours on high.
If a thicker broth is desired mix 2 teaspoons cornstarch into ⅛ cup of water.
Add to the crock pot and stir during the last hour of cooking.
Looking for more Crock Pot recipes?
Vegetable Pasta Crock Pot Soup
 Easy Crock Pot Pulled Pork Sandwiches
Easy Crock Pot Chicken Enchiladas