This recipe is a quick, easy and  great way to use up those too brown banana's sitting on the counter. I"ve linked up to This Weeks Cravings on The Daily Dish.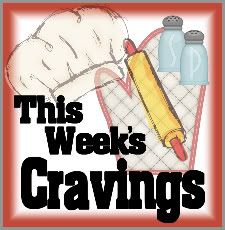 You can find some more great Banana recipes if you click on the button!
Bananas are probably one of the only fruits that are wonderful once they have gone past they're use by date lol. I have always loved brown bananas. They taste so much better to me then when they are bright yellow, flavorless and hard.
Give me a soft browning banana any day. I love it when I find bags of them marked down on clearance at the grocery store. I always buy 2 or 3 bags.  The kids eat a few before they get too brown for them, some of them I may peel and put  into zip topped bag , freeze and use in smoothies. Others I leave  out on the counter to turn totally brown so I can bake with them.
I love making banana bread, banana cake or muffins with them.
Banana Muffins
Prep Time:

8 minutes

Cook Time:

20 minutes

Total Time:

28 minutes

Yield:

20-24 medium muffins
Ingredients
1 1/2 cups flour
1 teaspoon baking soda
1 teaspoon baking powder
1/2 teaspooon salt
2/3 cup white sugar
1/3 cup brown sugar
1/2 teaspoon cinnamon
3 large bananas
1 egg beaten
1 teaspoon vanilla extract
1/4 cup yogurt
1/4 cup oil of choice
Instructions
Whisk all the dry ingredients in a bowl.
In a large bowl mash the bananas. Add the two sugars, beaten egg, vanilla, oil and yogurt. Beat or mix in a stand mixer until combined.
Fold the dry ingredients into the wet until just moistened.
Fill cupckake liners or muffin pans 3/4 full.
Bake at 375 for 20 minutes.
Cool ten minutes and move to wire racks to cool completly. Makes about 20 medium muffins.