Balsamic Roasted Vegetable Medley
Disclosure: This is a sponsored post on behalf of the Pompeian #PantryInsiders. All opinions are my own.
There are two flavors I love. One is the deep rich flavor of roasted vegetables. The other is a combination of roasted vegetables and a balsamic vinaigrette.  This Balsamic Roasted Vegetable Medley recipe is a combination of those two flavors.
I came late to the game of balsamic vinegar. I think I may have had it many years ago on a spinach salad with strawberries. Since falling in love with the Pompeian Balsamic vinegar I've enjoyed it as a dressing and when roasting vegetables. 

Last month I shared this Roasted Broccoli Salad. This month I am sharing this Balsamic Roasted Vegetable Medley recipe.  For the next couple of months I will be sharing recipes that feature Pompeian Olive Oils and Vinegars as part of the Pompeian #PantryInsiders.
Pompeian Olive Oil Tasting 101
Have you ever wondered what the difference was between the different Pompeian Olive Oils? Ever wondered which olive oil you should use for your cooking and recipes? 
 Well at the beginning of the month myself and the rest of the #PantryInsiders had a chance to find out. We were invited to take part in the Pompeian Olive Oil Tasting 101 live webcast with the head of Product Quality & Research at Pompeian. 
I received a sample box with 6 bottles of Pompeian Olive Oils to use during the taste testing. Have you ever been to a wine tasting? Well we did the same thing with Pompeian Olive Oils. I never realized the many layers of different flavors olive oils have.  After the taste testing we chose a Pompeian Olive Oil to use in this months recipe.
As you can see from my recipe I chose the Pompeian Extra Virgin Olive Oil to use. I have always loved the full flavor of extra virgin olive oil. 
Pompeian Olive Oil Tips
Pompeian Olive Oil should be stored away from heat & light

Pompeian Olive oil has a 2 year shelf life

Pompeian Olive Oil can replace almost any other oil or fat

Pompeian Olive Oil is cholesterol free
For more tips on Pompeian Olive Oil check out the Pompeian Olive Oil FAQ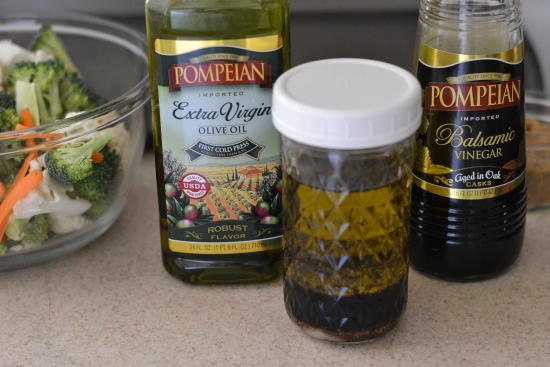 If you have shied away from trying to make Balsamic roasted vegetables because you thought it was too difficult and you would need to amass a long list of  ingredients I want you to know it's as easy as mixing a simple olive oil and vinegar salad dressing recipe.
To make this recipe you probably already have most of the ingredients on hand. You will need some Pompeian Extra Virgin Olive oil, Pompeian Balsamic Vinegar, brown sugar,  chopped garlic and salt and pepper along with whatever vegetables you will be roasting.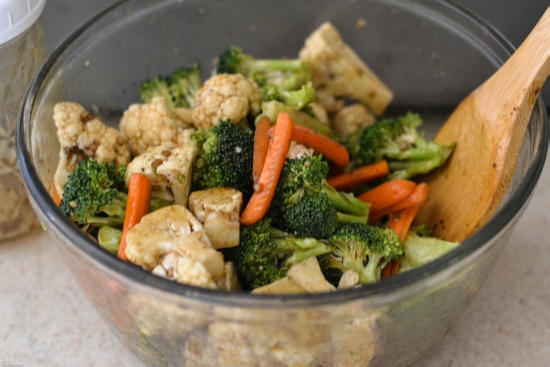 Simply mix all the ingredients (except the vegetables of course) in a jar and shake vigorously.  Pour the Balsamic Vinaigrette over the vegetables and mix well. Then roast them in the oven on a shallow baking pan.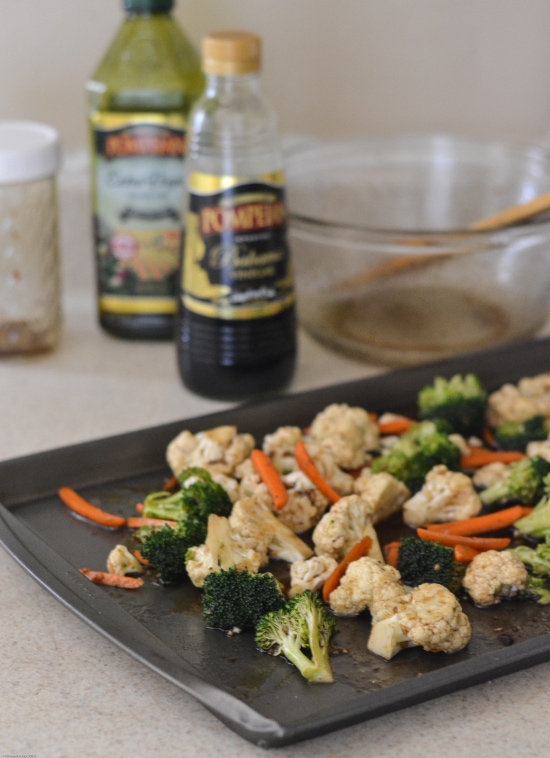 I love the deep rich flavor the balsamic vinegar gives to the roasted vegetables and I bet you will too.  You can use almost any vegetable you want with this recipe in any combination. 
You can find my Balsamic Roasted Vegetable Medley recipe in Ziplist format below for for easy saving and printing. 
Balsamic Roasted Vegetable Medley
Ingredients
¾ cup Pompeian Extra Virgin Olive Oil
¼ cup Pompeian Balsamic Vinegar
2 teaspoons chopped garlic
¼ cup brown sugar
¼ teaspoon salt
½ teaspoon black pepper
2 cups cauliflower, cut into bite size pieces
1 cup broccoli, cut into bite size pieces
1 small carrot, julienned
Directions
Preheat oven to 400 degrees.
Put the first 6 ingredients In a jar with a tight fitting lid. Shake well and set aside.
Cut the vegetables and place in a bowl.
Shake the balsamic vinaigrette well and pour over vegetables.
Stir to coat well.
Pour vegetables onto a shallow baking sheet and spread out into a single layer.
Roast vegetables for 10 minutes and stir.
Return to oven and roast an additional 8-10 minutes, occasionally stirring.
Remove from oven and serve.