A&W Root Beer Float Memories
 When I was a kid it was a very special day when my mom could make us an A&W Root Beer Float for dessert.

Root Beer Float Memories
We didn't have much money for extras with my mom being a single mother trying to raise three kids on her own. Money was tight but we had a close extended family. My grandparents, aunt and uncle all lived on the same block within walking distance of our home.
I have a lot of fond memories from those times. When we had a special ice cream treat like a root beer float then so did the rest of the family.  My grandparents and usually my aunt would come to our house or one of us kids would walk the special treat over to their house.  Many times while enjoying a root beer float I would hear the story of how back in the day in Brooklyn where my family is from, my mom and her friends would go to the corner drug or candy store for an ice cream soda or an egg cream. My mom tried explaining what was in an egg cream once. I don't remember what the ingredients were but I thought it was funny that a cold drink  by the name of egg cream didn't have egg in it at all.
A&W is the only Root Beer
One of the best parts that I remember about having a root beer float was sucking the mountain of foam off the top of the glass.  To get that light and airy foam head on the top of a root beer float you have got to use the best root beer there is. One that has a great fizz.
 My mom would sometimes skimp when it came to the brand of ice cream she used to make a root beer float by buying a store brand vanilla ice cream. But when it came to the root beer it had to be A&W Root Beer. No other root beer would do.
 Making an A&W Root Beer Float
There are only two ingredients needed to make a root beer float. Start with the best ingredients available and you will be licking the creamy foam off the top of your own root beer float in a matter of seconds. I picked up my ingredients at Walmart and even found the Edy's Ice Cream on rollback and had a coupon for a $1 off of two Edy's products so I saved even more.
If you want to make your root beer float a little extra special like I did you can top it off with whipped cream and a cherry. If not it is just as delicious made with just root beer and the best vanilla ice cream you can buy.
Chilled A&W Root Beer
Edy's Grand  Vanilla Ice Cream
whipped cream ( optional )
maraschino cherries ( optional )
Start by adding two or three scoops of Edy's Grand Vanilla Ice Cream to a glass.
 Slowly pour the A&W Root Beer over the ice cream. When the foam reaches the top of the glass stop pouring the root beer.  At this point you can add a straw to the glass and sip away at the root beer float until:
You run out of root beer

You get a brain freeze from drinking it too fast and have to grab your head and moan
Or first you can top the foam with a big swirl of whipped cream and top it with a cherry like I did.
And if one of your kids are anxiously waiting around for you to finish taking pictures you may just have to make another root beer float immediately for them before you can finish what you're doing.
Top your mug off with more root beer or use a spoon to eat the ice cream.
Cool off this summer with an A&W Root Beer Float
Root Beer Floats are a perfect way to beat the heat this summer. They are also a great way to amaze your kids and their friends when they are hanging out at your house this summer. You'll be the coolest Mom on the block for sure.
You can find more Summer treat ideas from Nestle on the Walmart website. Give Nestle a shout out on Twitter and let them know what your favorite Nestle Summer Treat is.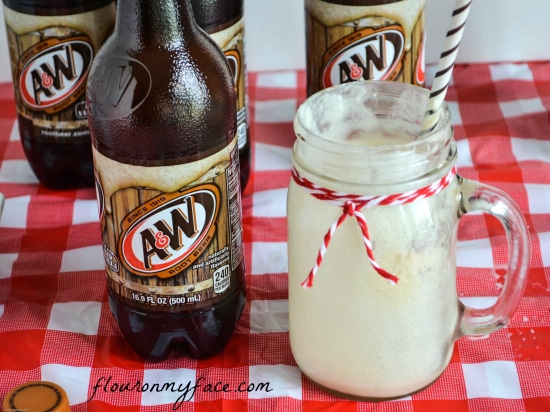 Do you have any fond memories of A&W Root Beer?
I'd love to hear them so leave me a comment and tell me your favorite A&W Root Beer memory.