Chipotle Chicken Strip and BLT Sub
#HVSandwichSpreads
Disclosure: This is a sponsored conversation written by me on behalf of Hidden Valley Ranch. The opinions and text are all mine.
Sandwiches are served about once a week at our home for dinner. We don't just enjoy them for lunch. It's one of those meals where everyone is happy and I don't have to hear I don't want that from anyone. We eat them grilled, we eat them on sub rolls, we eat them on onion rolls and we eat them on regular sandwich bread.
Everyone in the family can personalize them. I happen to love my sandwiches loaded. Lettuce, tomato and onions will be piled on whatever bread choice I am using. Pickles and olives will take turns on my sandwiches. The rest of the family are a little more picky when it comes to their sandwich toppings. No tomato or onion for them  A few in the family like their sandwiches plain. When I say plain I mean a meat, cheese and condiment is all they want. Very boring if you ask me!
We have been using Hidden Valley salad dressings and dip mixes for years. Matter of fact we have not eaten another Ranch dip since Hidden Valley started selling their dip mix in convenient envelopes I don't know how many years ago. 
Hidden Valley™ Sandwich Spreads & Dips 
Hidden Valley is a brand we love and now there is a new Hidden Valley Sandwich Spreads & Dips available.  The sandwich spreads are available in four flavors and I had a chance to sample all four!
Spicy Chipotle Pepper
Oven Roasted Garlic Parmesan
Smoked Bacon Ranch
Country Herb Ranch
Since I love spicy I knew the Spicy Chipotle would be my favorite and I couldn't wait to try it on a chicken strip sandwich. I wasn't disappointed. The Spicy Chipotle Pepper spread went perfect with the chicken strips and had a nice spicy flavor.
Chicken strip sandwiches are so easy to make and you can enjoy them on any type of bread with any toppings that you choose to add.
As an added bonus these new delicious sandwich spreads are lower calorie condiment choice made with cream cheese and white beans instead of mayo with only 2 grams of fat per serving. 
Chipotle Chicken Strip and BLT Sub #HVSandwichSpreads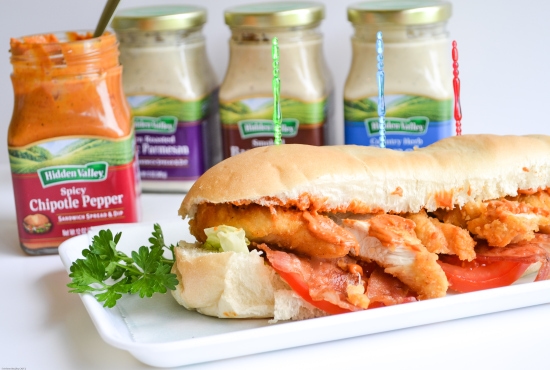 Ingredients
Fresh Sub Roll
3 pieces bacon
sliced tomato
lettuce
3 publix chicken strips
Hidden Valley Ranch Chipotle Sandwich Spread
Instructions
Slice a sub roll in half.
Spread a tablespoon of Hidden Valley Ranch Spicy Chipotle Pepper Sandwich Spread on the bottom of the sub roll.
Layer shredded lettuce , a couple of tomato slices, three strips of bacon cooked crisp on the bottom of the roll.
Slice or cut in half the chicken strips and lay them on top of the bacon.
Spread another tablespoon of the Chipotle Sandwich spread on the top of the sub roll.
http://www.flouronmyface.com/2013/10/chipotle-chicken-strip-and-blt-sub-hvsandwichspreads.html
www.flouronmyface.com
All four of the flavors taste great. As soon as I tasted the Chipotle flavor I knew it would be perfect for a shrimp dip or made into a shrimp cocktail sauce.
Hidden Valley's line of new Sandwich Spreads & Dips will take your boring sandwich routine to another level. With new flavors like Spicy Chipotle Pepper and Oven Roasted Garlic Parmesan, your mouth will be thanking you and you'll be on your way to delivering sandwich-envy.
 
This is a sponsored conversation written by me on behalf of Hidden Valley Ranch. The opinions and text are all mine.