10 Tips to Survive Black Friday Shopping
Are you planning to shop on Black Friday. Are you getting excited? Do you have any Black Friday shopping tips? I do so I've written 10 Tips How to Survive Black Friday shopping based on my personal experience Black Friday shopping.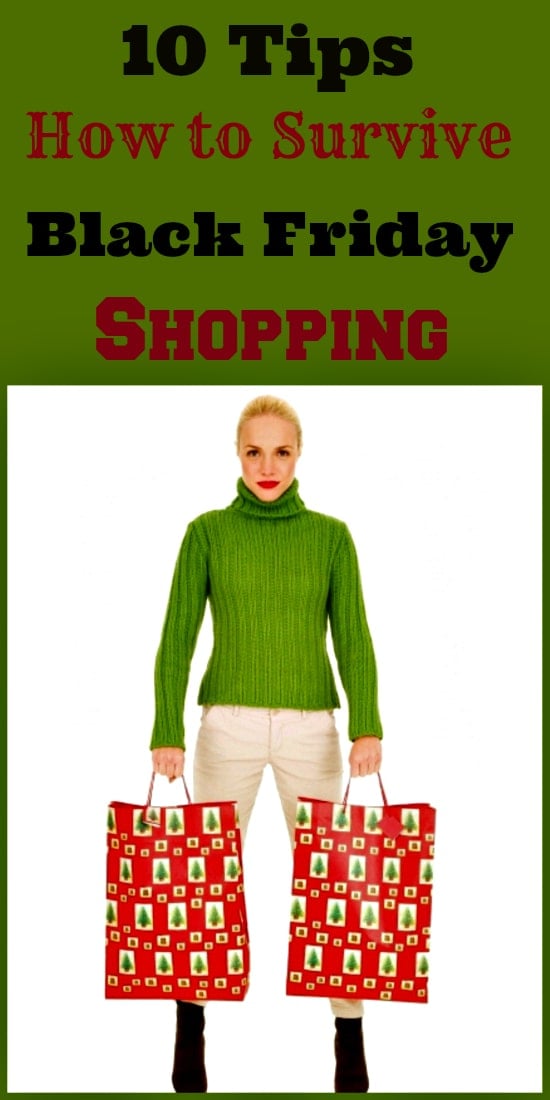 It seems like each year Black Friday shopping gets earlier and earlier on Thanksgiving evening. This year some stores are opening at 6 pm. I think the stores are ruining the fun of it by opening earlier. I also feel like the people who work at retail stores should get to spend Thanksgiving evening with their families.
I've only been a Black Friday shopper for a few years now, but I have learned a few things and decided to share my wisdom.
My oldest daughter and I have started a tradition of it. She checks out all the sales flyers and we hit the stores as soon as possible.
I hope some of these tips will at least make the craziest shopping night of the year a little easier.
 

10 Tips for the brave Black Friday Shoppers
Avoid contact with anyone showing signs of the flu at least 7 days prior to Thanksgiving Day. The worst thing that can happen is to come down with icky flu symptoms while standing in line at Target for 2 hours at 4 am in the morning. True story Black Friday Shopping trip 2010.

Eat Thanksgiving Dinner early. Best to have that tummy settled before shopping

Do Not over eat at Thanksgiving Dinner.

Wear comfortable shoes. This is not the night to wear those cute boots you just bought!

Wear comfortable clothing. Yoga pants are my favorite activewear. Black Friday shopping is considered a workout, right?

Ditch the kids. Take advantage of those out of town visiting relatives who never get to see the little angels.

Bring back the Fanny Pack! Leave the big purse at home. It's hard to carry and protect with all those crowds.

Shop with a buddy. You can't be in two places at once. Split up your lists and each head in a different direction. You'll have a better chance to score those toys or p.j's with help.

Pack gum or mints to combat dry mouth while standing in line for three hours. Avoid extra fluids at this time.

Pee before you get in line! See #9